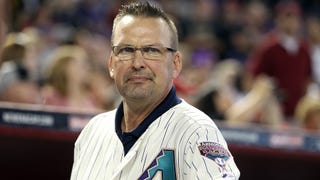 Brewers pitcher Yovani Gallardo was booked on DUI charges last night. Police pulled him over at 2:10 a.m.—he was weaving lanes—and said he blew a .22 BAC. [ESPN Milwaukee]
Former MLB first baseman and Diamondbacks color commentator Mark Grace is going to jail because he can't stop driving around Arizona while drunk. Earlier today, Grace pleaded guilty to endangerment and DUI, and was sentenced to four months of work-release jail time and three years of supervised probation. Before…
Yankees pitcher Michael Pineda was arrested on suspicion of DUI in Tampa at 2:35 a.m. today. Police say he had a .128 blood alcohol content.
The news has been making the rounds since it first got out late last night, but the San Jose Mercury News has the details on the arrest of the Seahawks running back, which happened early Saturday morning in Oakland, Calif.
Bob Lorenz isn't currently a star on the Yankees' broadcast arm, the YES Network. (He does lots of solid studio work.) And judging from what police allege happened early this morning in Westport, Connecticut, Lorenz won't become a star at YES anytime soon.
A physical hockey player gets caught, intoxicated and bloated, doing something illegal. More than that, his actions were dangerous and self-destructive and put those around him at risk. In the wake of the deaths of Derek Boogaard, Rick Rypien and Wade Belak, we expected an outcry: Get him the professional help he…
Indians outfielder Shin-Soo Choo was arrested early Monday morning on DUI charges, the second such Indian and sixth MLB player this year. People smarter and more serious than we, like ESPN's Keith Law, have noticed and called out the trend—Law tweeted, "I'm so glad MLB is directing its time and money into developing a…

Here's a brilliant display of a group of collegiate athletes woeful abandonment of alcohol-imbibing responsibility, as three University of Nevada football players were pinched over the Memorial Day weekend for DUIs, including senior wide receiver, Mike McCoy, pictured holding the ball in a less inebriated state.