If the first time you really noticed Aaron Gordon was when he was jumping over a dragon on a hoverboard during the dunk contest, that's okay! The Orlando Magic aren't very good, and Gordon hasn't quite managed to consistently put together his elite potential (though he's close). The important thing to know is that he…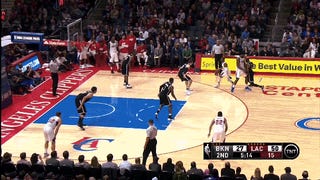 It is only the second quarter, but the Clippers are winning by 30 because of plays like this. It's okay Brook, you've got some company.
Pau Gasol is having his best season in a couple of years, suggesting that his recent demise wasn't about physical ability but the psychic torture that the Mike D'Antoni-Dwight Howard-Old Kobe Bryant-Nick Young Los Angeles Lakers imposed upon him. But one of the cool things about the NBA is that almost everybody is…
Kareem Abdul-Jabbar perfected the hook shot and made it unstoppable, releasing it so far from the basket and so high into the air that it was coined the skyhook. Or so we thought, until Giannis Antetokounmpo showed off the next phase of its evolution against the Suns tonight: the skydunk. Think about it, it's perfect.…
Jeremy Lin was all set to help Knicks teammate Iman Shumpert at Saturday's NBA slam dunk contest. But because Shumpert has missed the team's last two games with knee tendinitis, he had to bow out. Jeremy Evans of the Utah Jazz will take Shumpert's place. And now that he's out, Shumpert revealed to the New York Post…
Here's where you can watch Nate Robinson and Shannon Brown battle it out for who can make the most dunks that make other NBA players stomp feet and throw towels, all with canned expressions of astonishment. [NBA]
According to the Wall Street Journal, Nike acted because the new Hyperdunk ads were deemed by some to be offensive to blacks and gays. Which is, in two words, patently absurd. It also raises an interesting question: why can't a sports company just say that their ads are meant for non-idiots?