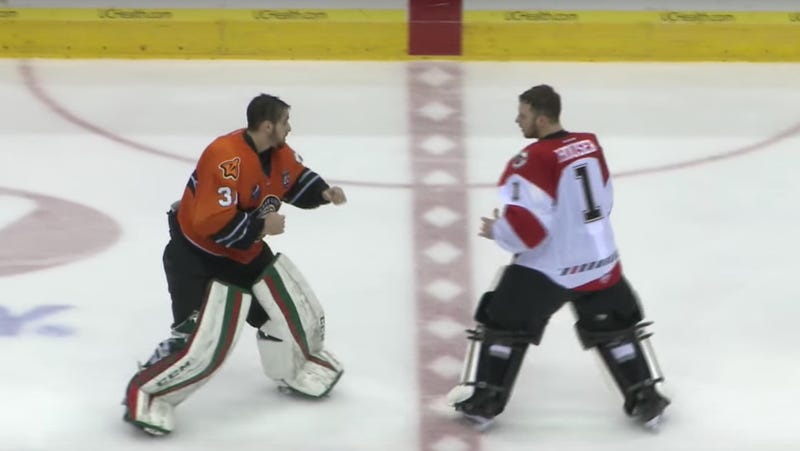 Adam Vay of the Quad City Mallards—a real team in the ECHL, I swear—is not someone you wan to scrap with. The goalie is an avid MMA practitioner, but it seems that Cincinnati Cyclones keeper Michael Houser didn't know that, because he tried to throw hands last night. It did not end well.

Condors are majestic creatures. The California Condor, which historically ranged across the West Coast and Southwest (and even to Florida way back in the day), is the largest land bird in North America. In the late 1980s the California Condor went extinct in the wild, due to poaching and various types of environmental…
Above is a video taken Saturday night at an ECHL Idaho Steelheads game. It shows fans pouring a $7 large beer into a $4 small cup, and discovering that each holds exactly the same amount of liquid. Now the arena is facing a lawsuit, because rule number one in sports is that you don't shortchange hockey fans on beer.
If you live in Toledo and were having trouble finding something to do Saturday night (as if), you definitely now want to buy tickets to see the ECHL's Toledo Walleye host the Kalamazoo Wings. It's Star Wars Night. The teams will be wearing these sweaters.
The night after tending goal in a 3-1 loss to Gwinnett (he was pulled after 25 minutes), Orlando Solar Bears netminder Zoltan Hetenyi hit the town to drown his sorrows. Sometime around 3 a.m. Sunday morning, Hetenyi caused a ruckus at the Arena Tavern in Duluth, Ga., leading us to create this totally new stereotype…
Ah, the Winter Classic, perhaps the NHL's best innovation of the Bettman era. There's something pure about a game played out in the elements—bundled up, plenty of hot cocoa in reserve, the puck occasionally at the mercy of winds, and perhaps, if you're lucky, a light snowfall to add that magical touch. If you ignore…
Half the fun of this brawl between the Bakersfield Condors and the Ontario Reign last night is, obviously, the brawl itself—which included the goalies. The other half is the announcers' slow descent into giddy madness, including tossing out quotes from Ghostbusters. One of the goalies shamefully keeps his helmet on,…
The ECHL's Alaska Aces will suit up Sunday night in this Valentine's Day nightie jersey. Remember kids, pink is an acceptable uniform color only if you're fighting breast cancer, or are Bret "The Hitman" Hart.
The ECHL's Victoria Salmon Kings get their puck-handling on, and inspire an entire generation of aspiring athletes to think pass first. Oh wait, no they didn't.