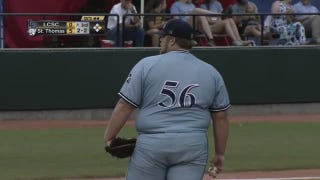 St. Thomas (Miami) pitcher Ben Ancheff got the whole Internet talking last night after starting in the Bobcats' NAIA World Series game in Idaho last night against Lewis-Clark State. But it wasn't his 5.40 ERA or his unimpressive 3-2 record that blew everybody's heads off; it was his girth. So much girth. Look at this…
Fat Ronaldo was in France today taking part in the UEFA Match Against Poverty, and he put on the single best display of fat-guy athleticism I think I've ever seen. Even wheezing up and down the pitch looking like he had a ball in his shirt, he still managed to contort his considerable girth, like a man 70 pounds…
This isn't a Fat Guy Touchdown, but it's one of the best plays we've seen from a gentleman of girth in a long time.
Kent crushed Ohio 44-13 in Athens tonight, but the highlight for all who tuned in for #MACtion was this 61-yard fake punt by Nate Terhune, a 6'4" 265 lb. defensive lineman who played up-back on the punt team and made the most of his opportunity—hurdling a Bobcat return teamer en route to the end zone.
Got an image you'd like to see in here first thing in the morning? Send it to tips@deadspin.com. Subject: Morning crap.
Football fans have been marveling at the transformation of Titans' running back LenDale White, who has trimmed his previous bowling ball-like physique down to a svelte 228-pound Mack Truck. So how did he do it? By not eating worms, obviously.
Aging Brazilian legend Ronaldo went to the hospital for a broken wrist and had doctors throw a liposuction on the bill. How do you expect a guy to work out when he's busy playing all that soccer? [The Spoiler]