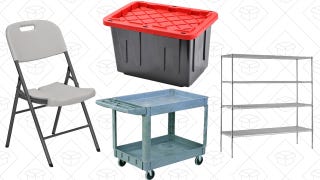 Amazon's shelving and furniture Gold Box doesn't include any pieces that you'd want to display in your living room, but it is full of utilitarian shelves, chairs, and cabinets that would be perfect for a garage, shed, or pantry.

You've got to admire a product that puts the phrase: "The Ugly Duckling in your cleaning cabinet" right on the top of its packaging. All you have to do is sweep this odd looking blob across your car seats, couches, rugs, or other pieces of fabric, and all of that accumulated pet hair will come right off. Reviewers say…
That's right: antiques. Now, let me guess your Pavlovian response: drab chairs you wouldn't trash-pick even without the bed-bug anxiety, grandmotherly floral couches in their eternal plastic seals, mildew mingling with stale perfume, and no delicious Swedish meatballs in sight. But you've got it all wrong. I'm a…
When you walk out of the Älmhult train station, there's not much to see. To the west is a string of filthy box cars on the railroad, and to the east, a small park with no people. TripAdvisor will tell you that there is only one thing to do in the tiny Swedish village: Go to IKEA.
Living up to its name, the IKEA Besta is your choice for Best TV Stand. Given its affordability, customizability, and versatility, this is no surprise. [IKEA Besta]
Last week we asked you which furniture you thought made the best home for your TV, and we got a ton of responses. We've combed through the stacks of options to find your most nominated, and outlined them below. Now it's time to vote by starring your favorite.