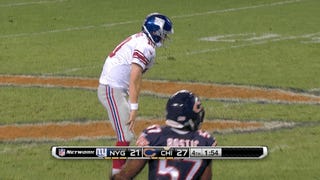 Bears 27, Giants 21: A game on short rest was the least helpful thing to the Giants' 0-5 woes. New York actually held it together for the most part, though, and their defense gave the team a chance. Unfortunately, Eli Manning's turnovers severely hindered the offense. Matt Schaub knows how you're feeling right now,…
Eagles 36, Giants 21: Take a good look at everything awful in that Eli Manning GIF. The face. The bad pocket. The pass bouncing off a teammate's head. This is the perfect representation of an 0-5 team. For the record, that pass ended up being an interception. Mike Vick was also hurt, but it doesn't seem too serious.
Broncos 52, Eagles 20: Who can stop the Broncos this season? Denver didn't care how quickly Chip Kelly and the Eagles ran plays; the Broncos scored 38 straight points over three quarters. Peyton Manning threw for four touchdowns and 327 yards. This game was decided early, and the Broncos look near-invincible right now.
Jets 27, Bills 20: The first battle of AFC East rookie QBs was must-see TV, in that it was extraordinarily ugly. New York was flagged for 20 penalties, breaking a team record for most penalties in a game. (The NFL record was 22; oh, so close!) The Jets took a 20-6 lead in the third quarter, and somehow, even with C.J.…
Patriots 23, Buccaneers 3: Without Danny Amendola or Rob Gronkowski, the Patriots managed to make their rookie receivers drop less. Kenbrell Thompkins had two touchdowns on three catches, and Aaron Dobson had seven catches for 52 yards. Brady threw a pick in the end zone in the third quarter, and this time, he yelled…
GIFs are one of the Internet's most polarizing elements; not only is there debate over the image format's utility (or, as anti-GIFfers argue, lack thereof) but over how to say "GIF" in the first place. (We're choosy moms.) Even GIF haters, though, can't keep themselves away from the sports moments captured in those…