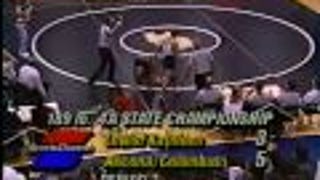 Hate Ray Lewis? Then the above video might make you feel a bit better about having to watch him end his career as a Super Bowl champion last night. In 1992, Lewis competed in the Florida 4A high school wrestling state championship, and he lost.
Sahuarita High School, outside of Tucson, Ariz., is down most of its wrestling team. Nine wrestlers have been charged with kidnapping and aggravated assault in connection with an apparent hazing incident last week, which they unwisely pulled off in a full locker room with plenty of witnesses.
"Madison Square Garden" is a big deal for the Madison (S.D.) Bulldogs—an annual wrestling triangular, featuring "one of the most unique atmosphere's in the state for a dual. A packed gym, ridiculously loud music played at ever stop in the action, one big light over the mat, 1000 glow sticks, stats in prom dresses,…
Unlike a girl in Iowa last year, who competed mostly against girls before becoming the first to win a state tournament match because her male opponent refused to face her, North Andover's Danielle Coughlin is taking on the boys—and beating them. She's currently ranked sixth in the state in the 106-pound weight class…
Kaz Dymek is so totally stoked by his chance to become a Sarasota, Fla. high school's first state wrestling champion that he's sparring with "Old Buck" who, per the Herald-Tribune, "weighs 400 pounds, eats 30 pounds of meat a day, growls with a ferocity that can peel paint, and is a Bengal tiger."
This week, a God-fearin' home-schooled young man named Joel Northrup refused to face Cassy Herkelman in the ring because his faith doesn't allow men wrasslin' ladies. In a statement issued by his host school (because public high school athletic departments in Iowa have public relations experts?), Northrup explained…