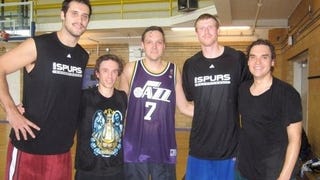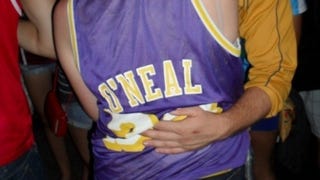 An occasional feature in which we spotlight the ridiculous trend of recontextualized basketball jerseys. Today: Jason Kidd.
Welcome to the second edition of the Hoopsters of Lollapalooza 2010. There's been some debate over whether of not some of the entrants are real "hipsters" or merely "bros." Why though? This is a forum for ridicule, not ontological precision. Onto the pictures! Part One | Part Two | Part Three
This weekend's Lollapalooza was dubbed "Hoopster Mecca" by one tipster, and after sifting through all the submissions it's clear that the hoopsters made Lollapalooza the site of their Hajj. So, here's part one of a multipart series. Christ, just look at these fucking hoopsters. Part One | Part Two | Part Three
Yesterday, we posted a quicklink to The Faster Times's gallery of indie bros wearing NBA jerseys at the Pitchfork Festival. It's a fascinating phenomenon, a game even, as if they're actively trying to wear the most ridiculous NBA jersey imaginable.
This gallery of Pitchfork Festival denizens provides definitive proof that hipsters are now wearing old NBA jerseys at an even more obnoxious rate than previously imagined. But you probably haven't heard of these players, they're pretty obscure. [The Faster Times]