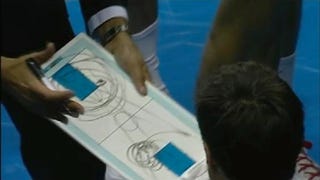 This clipboard belongs to Simone Pianigiani, the head coach of the Italian national basketball team, and we're told that it almost always resembles a toddler's masterpiece (and, yes, possibly an unintentional dong as well).
The Acropolis Tournament in Athens ended today when the Greek and Serbian teams got into a bench-clearing brawl. Come for the punching, stay for the Nenad Krstic chair-throwing. [AP]
Venezuela's national basketball team flew all the way to Alabama to participate in an international tournament, only to discover they were the only international team there. Also, the "tournament" was just one game. You've done it again, Birmingham, Alabama.