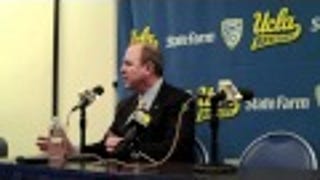 As feel-good endings to basketball-arena timelines go, what happened yesterday at UCLA's slated-for-renovation Pauley Pavilion is scripted perfectly. In the building where his great grandfather, the late John Wooden, coached eight national-championship teams, Tyler Trapani made his third on-court appearance of the…
Quietly, perhaps in a brief moment when floppy Derek Fisher wasn't butoh dancing for the refs, Celtics-Lakers became everything anyone could want in a basketball series.
"Coach had these specially designed pants that had holes in the seat. He used to place false teeth in his buttocks and collect loose change from sofas while sitting and talking to parents on recruiting trips." Share your own below. [Johnny America]
Legendary basketball coach John Wooden has passed away at the age of 99 at Ronald Reagan UCLA Medical Center. Say good-bye to the Wizard of Westwood with Alex Wolff's retrospective here. [New York Times]
OK, Butler's a great story, and I realize that a certain amount of, "Hey, it's like that one movie where Gene Hackman gets to hump Barbara Hershey!" is inevitable here, but can we please leave John Wooden out of this?
And to commemorate, Esquire.com's re-run his "What I've Learned" interview with Cal Fussman from February, 2000. Here's some sage advice from the legendary UCLA coach we can all benefit from: "Pick up your own orange peels."[Esquire.com]
Okay, who left the Pyramid of Success out in the middle of the den for everyone to trip over? C'mon, one of you better fess up to this. Because now John Wooden took a pretty bad spill thanks to your irresponsibility.