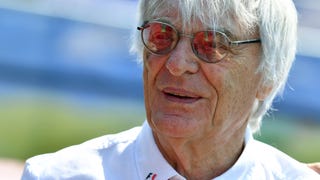 Bernie Ecclestone's mother-in-law Aparecida Schunck was rescued Sunday after being reportedly abducted at knife-point in Brazil for a ransom of $37.5 million. Police have arrested two of the kidnappers and have now reportedly detained a helicopter pilot close to Ecclestone.
Formula 1 boss Bernie Ecclestone's mother-in-law has reportedly been kidnapped in Brazil and held for a ransom demand of roughly $36.5 million, according to Brazilian magazine Veja.

In the meeting room of a La Quinta hotel on the northernmost outskirts of Las Vegas, near the entrance to Nellis Air Force Base, the company OnPoint Tactical hosted the most recent iteration of their "Urban Escape & Evasion" course.
Devonta Pollard, a rising junior basketball player at the University of Alabama, was arrested today following the April 30 kidnapping of a six-year-old girl from Mississippi. The Tuscaloosa News reports that he was charged with one count of conspiracy to commit kidnapping. Six people, including Pollard's mother, Jesse…
I have an article in this month's GQ about my experience with a luxury abduction service, which I paid to kidnap me and hold me captive for 14 hours or so. (Here I am talking about the story on The Howard Stern Show, if you care to listen.) Given that Adam Thick, owner and operator of Extreme Kidnapping, was inspired…
Becoming a professional baseball player should mean you're pretty much set, right? Forget the odds that a fringe (or star) professional athlete will go broke before he's a certain age—if you spend much of your twenties and thirties making millions or near millions of dollars for playing a game, you've made it in at…
Washington Nationals catcher Wilson Ramos was rescued last night and that is a very good thing. An even better thing? The rescue involved "Venezuelan police commandos" engaged in a "hair-raising" gunfight with his captors in a remote mountainous area.