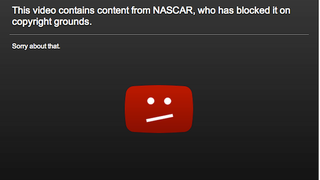 Following yesterday's frightening crash in NASCAR's Nationwide Series DRIVE4COPD 300 at Daytona, controversy surged following NASCAR's decision to pull fan video of crash debris entering the grandstands.
Though two fans are critically injured from flying debris that shot into the crowd after Kyle Larsen's crash at Daytona this afternoon, (one is reportedly a minor, the others' injuries are reportedly life-threatening), NASCAR will not significantly alter its plan for tomorrow. In a press conference that lasted about…
Tony Stewart won today's DRIVE4COPD 300 at Daytona, but all anyone will remember about the race is how it ended for another driver, Kyle Larson. A massive wreck at the checkered flag sent Larson's car through the catch fence, sending debris and even the car's engine itself hurtling toward spectators.