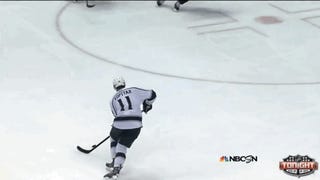 Oh man, poor Jonas Hiller. The way he whips his body around and looks back after that goal trickles in, you can feel his anguish and disbelief, even though he's wearing a mask. He is staring daggers through that puck. At 12:07 in overtime, Marian Gaborik redirected Anze Kopitar's pass and it sort of just rolled up…
This is Derek Boogaard, younger, still the same player.
Playoff hockey overtime might be the single greatest thing in the sports world — assuming your team isn't involved. Then it's a war of nail-biting, heart-stopping attrition, destined to end in glory and highlight compilations for one side, and wondering why you even bothered staying up late for the other.