Who could blame the kid with a matchup like Oregon Tech vs. Saint Francis in front of him!
St. Thomas (Miami) pitcher Ben Ancheff got the whole Internet talking last night after starting in the Bobcats' NAIA World Series game in Idaho last night against Lewis-Clark State. But it wasn't his 5.40 ERA or his unimpressive 3-2 record that blew everybody's heads off; it was his girth. So much girth. Look at this…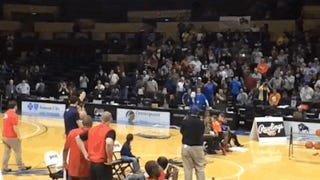 The National Association of Intercollegiate Athletics held its inaugural dunk contest Saturday and Taylor Inman of Southwestern Christian stole the show. This dunk is nuts. He tosses a pass to himself from halfcourt, sprints to just inside the foul line, leaps, catches, and dunks it all in the same motion. Absolutely…
Last night in Siloam Springs, Ark., the NAIA's John Brown University played its first game of the 2011-12 season against Hillsdale Freewill Baptist and won, 101-58. And as they do every year, the Golden Eagles surrendered two easy points to Hillsdale in the second minute of the game, after officials called a…
In keeping with our mission to bring you the latest in Midwestern religious college soccer, we happily present a moment from this weekend's Oklahoma Baptist-MidAmerica Nazarene showdown. The OBU Bison keeper will be seeing this one in his dreams for a while, but we're particularly taken with the cameraman's…
Every morning, the fine folks at Sports Radio Interviews sift through the a.m. drive-time chatter to bring you the best interviews with coaches, players, and personalities across the sports landscape. Today: Alan Moore on being the oldest college football player ever.