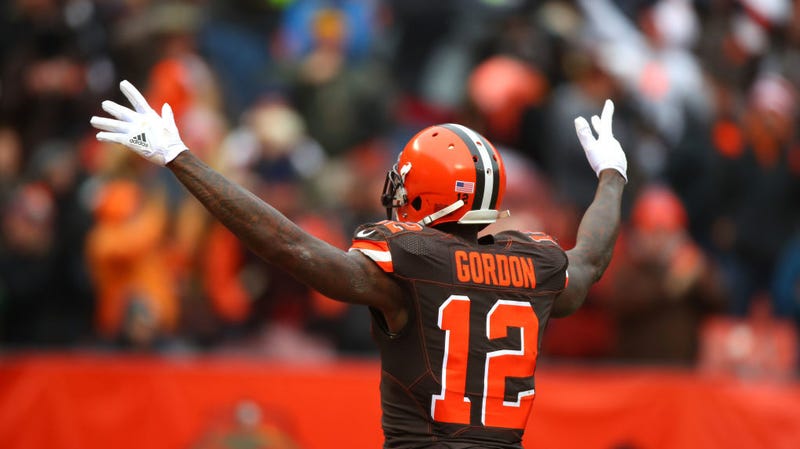 Josh Gordon's unexplained leave of absence from the start of Browns training camp—something Gordon described as "part of my overall health and treatment plan" when it was announced back in July—is now apparently over. Gordon announced Saturday that he's rejoining the team:
The highlight of the preseason so far has been new Browns receiver Jarvis Landry laying into his fellow receivers for being weak little babies who don't practice enough. Landry's intensity does not seem to have quieted down since then, judging by this fight he started with cornerback Terrance Mitchell during practice…
Training camp Twitter is an annoyance. I don't care who looks good out there or who is seeing reps or what's going on in blurry cellphone photos taken from 70 yards away. I wish beat writers could just give it a rest. But if they have to tweet, it should be about badly thrown balls going where they don't belong. It is…
It's NFL training camp time, which means it's time to check in on Eddie Lacy's middle, and also, apparently to check out some good-as-hell dogs. Washington cornerback Bashaud Breeland supplied the dogs.

Hey look, another fight at a joint practice. This one wasn't as all encompassing as what went down in Richmond between Washington and Houston, but there's a couple of real solid cheap shots in there.
The Redskins are nearing a deal to move their training camp from Ashburn, Va., to Richmond, and not all of Richmond's citizens are thrilled. There are the typical objections—environmental impact, cost, the fact that a non-profit with ties to the Catholic Church would own the facilities—and then there's this guy.
There's a quick question and answer profile on Jay Glazer in the Albany Times-Union that covers most of the usual bases. Terribly boring and soul-crushing jobs at the outset, dogged determination, a secret mixed-martial arts career and eventual success in one's profession.
Above is a screengrab of Antrel Rolle's interview with ESPN New York, in which the facility's wireless password is carelessly taped to the wall. It's 2011NYGTC. Very creative. Who knows what kind of mischief one could get up to with this kind of information: gaining access to Tom Coughlin's bank account? Or even…
It's being framed as Bart Scott playing the contrarian, but that's burying the lede. The real story is the elimination of two-a-day practices in training camp, a change midwifed during these climactic lockout negotiations.
Tough start of the week for Mort. First, ESPN takes away his Twitter freedom. And now he's back at training camp and dealing with this asshole again. Which week do you think Glazer TP's the Mort Mobile? [PFT]