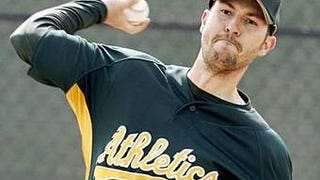 Justin Duchscherer has been on rehab since March with a hip injury. Now, he's shut down for the rest of the year with "a very treatable form of clinical depression." The treatment is "not playing for the A's." [SF Chronicle]
Add Ian Snell to the list of baseball players struggling with mental issues this season. The good news is that he seems to found a causal link between his crippling depression and playing baseball for the Pittsburgh Pirates.
It was suspected that Joey Votto's "inner-ear infection" was more substantial after the Reds' Italian bopper DL-d on May 30, but now it's been confirmed that he too is suffering from"stress-related issues."
Khalil Greene has been placed on the disabled list with an unspecified "social anxiety disorder" making him at least the third major leaguer to miss significant time with a similar complaint. That, my friends, is a TREND ALERT! So what the heck is going on here?