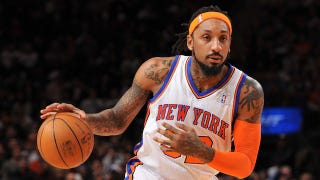 After choking one of his teammates last Friday, Renaldo Balkman has been banned from the Philippine Basketball Association by commissioner Chito Salud.
Here's Mark "Macmac" Cardona of the Talk 'N Text Tropang Texters punching former Cincinnati Bearcat Ronald Allen of the Dongguan Leopards. Described in Pacific Rims as "a pitbull," Macmac doesn't hesitate taking on the taller American. Two makes a trend, right? [PBA-Online]
Wynne "Tiny" Arboleda of the Philippine Basketball Association has been suspended for the entire 2009-10 season after he went all Daniel Plainview on a fan during a game. At least he'll have more time to work on his rap album.