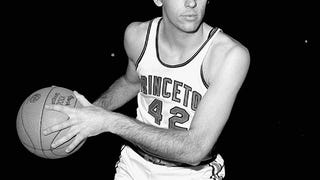 When college women are free to do what they want, some of them are going to want to behave like college jackasses. They're going to drink, swear, hook up sloppily and indiscriminately, barf in the streets, and generally act like boorish male characters in straight-to-DVD sex comedies. Oh, and one more thing: despite…
On Saturday, Harvard and Princeton faced one another in a one-game playoff for the Ivy League title. The game ended with a splendid buzzer-beater, and now Princeton, a 13 seed, has the honor of losing to Kentucky on Thursday. (Harvard's in the NIT—the Cornell of tournaments. How fun.)
Deadspin's own Dicktern was at Yale today to tweet his observations as Princeton earned the automatic bid with a 63-62 win thanks to Douglas Davis's clutch buzzer-beater. It's official: Vikram wins, and Princeton is smarter than Harvard at basketball.
This week we've followed the story of Harvard and Princeton, two storied crew programs, somehow stuck playing a basketball game Saturday for a spot in the NCAA tournament. You've heard from Brad and Vikram, and Jasper and Colin, all smack-talking because Greg Mankiw and Lars Svensson can't do it on their own.
Big basketball game Saturday afternoon, folks: Harvard (23-5, 12-2 Ivy) and Princeton (24-6, 12-2 Ivy) fighting to the death on Yale's court, a neutral site, for the Ivy League's March Madness bid. Extra high stakes for Harvard, who hasn't appeared in the tourney since 1946, back when RFK was punching the Spee.