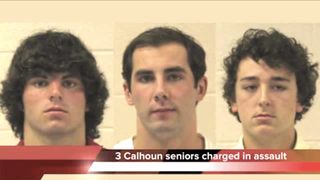 The Calhoun, Georgia case of three star high school athletes who allegedly sexually assaulted a girl at a post-prom party has taken a decidedly un-Steubenville-like turn, as instead of getting slaps on the wrists, the three defendants face hundreds of years in prison. Georgia prosecutors are not fucking around.
Their first interaction was him complimenting her watch. Then he began snapchatting her, texting her. It wasn't until he began following her on Instagram that she realized that he was a senior on her school's NCAA division 1 basketball team. And it wasn't until he raped her on the night before Easter that she realized…
Star athletes from a powerhouse high school athletic program. A sexual assault that occurred in the middle of a party full of witnesses who knew exactly what was going on but did nothing. Underage drinking. Online rumors. While the sexual assault of an 18-year-old Georgia high school senior by three of her classmates…
Jim Harbaugh is the coach of the NFL's San Francisco 49ers. He's best known for blowing Super Bowls, wearing awful pants, and generally acting like a fucking child and consummate dick. Apparently, ol' Jim couldn't wait another two weeks for the NFL Draft to remind everyone that he's a shitmouth, so he decided to say…
Following a school-requested investigation, the University of Missouri has acknowledged that they failed to properly address evidence indicating student Sasha Menu Corey had been sexually assaulted by a fellow student, an incident that appears to have led in part to her eventual suicide.
Yesterday, the Florida State Attorney's office dropped the rape investigation against FSU football player Jameis Winston, and of course, the Internet was a dick about it. So behold: our guide on how not to talk about the Jameis Winston rape case, since it's so hard for people to figure this out on their own.
Lizzy Seeberg, Daisy Coleman, the Steubenville rape victim — all three young women were targeted by young men who had two things in common: they felt entitled to the bodies of women regardless of whether the women consented to sexual contact, and all were athletes. But a similar attitude about having a sexual "right"…
Last week, a gross, rapey email sent to the entirety Georgia Tech's Phi Kappa Tau fraternity by the house's social chair went viral. Rightfully so; it was a rapey, misogynistic piece of trash that referred to getting women as "luring rapebait." Now, the author of the infamous letter has offered an apology— and a damn…
Well, this is completely sickening: the defense lawyers for three former U.S. Naval Academy football players accused of raping their classmate spent roughly thirty hours over the course of several days grilling the victim about her sex habits. The questions — which were asked in a public hearing — were intrusive,…
Last month, Anonymous sub-group KnightSec vowed to expose the other students and adults affiliated with the Steubenville, Ohio Big Red high school rape case if they didn't publicly apologize before January 1st. On Wednesday, they released a video of former Steubenville High School baseball player Michael Nodianos…