A few mind-blowing stats from Deron Williams's record-setting shooting night, in which he hit nine threes in one half (the record) and 11 overall: At the end of the first quarter, he had hit 8/9 shots, and was 7/7 from downtown. The Wizards, at that point, were six of 24 from the field, and had missed all six of…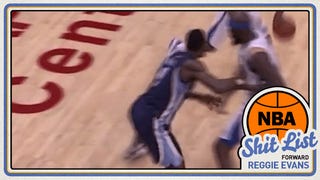 A celebration of the NBA's most infuriating players, both past and present. Read other NBA Shit List entries here.
Last night's Raptors-Suns game featured this delightful sequence in which Reggie Evans fouled Grant Hill, which led to the two engaging in a spirited round of ironic ass-slappery. Both players were ejected. Via Skeets.