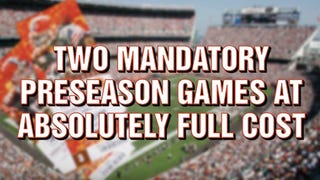 The Browns' season is over, but that just means fans can start looking forward to next season earlier! Mike Polk Jr., the wonderful man who brought you both Hastily Made Cleveland Tourism Videos, has made a promo for 2016 Browns season tickets. Cleveland fans would be absolutely insane to miss out on watching Year One…
According to Fox Sports' Mike Garafolo, NFL owners will meet next week and discuss selling season tickets to NFL fans in Los Angeles. As you are probably aware, there is no NFL team in L.A. for these fans to go watch with their season tickets, but who cares!
A completely acceptable first reaction to this Panthers ticket plan is rage. Rage that you're in one of those hockey markets where all games are sold out, season-ticket waiting lists stretch for years, and going the scalper route can cost about as much as an HDTV, while down in South Florida, they can catch NHL action…
Yesterday we brought you the story of a minor league hockey ticket promotion that has turned into a test of endurance. The sun has risen, we've hit hour 115, and the prisoners remain aloft until the Sundogs can hit their season ticket quota. But they're oh-so-close.
The Brewers "won" the Kyle Lohse sweepstakes today, shoring up their rotation. So if Milwaukee fans are feeling optimistic about their team's chances, perhaps they'd like to wager their seats on it. The Brewers have introduced a unique nine-game ticket plan, and each time they win, fans get upgraded—perhaps all the…
Not 15 minutes ago, I called up the Thrashers and inquired about season tickets, of which there are plenty still available. And the nice lady who answered the phone was more than willing to take down my credit card information to put in my deposit. This despite the minor detail that the Thrashers are moving to…
The Knicks are at a 10-year-high, and among the tops in the league, in new season ticket sales. The selling point is hope for the future. The Knicks lost by 50 today. [NY Times]