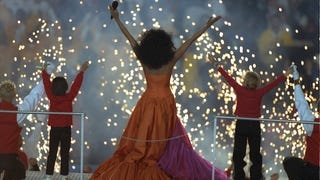 How shocking would it be if Madonna brought gay themes to the Super Bowl halftime show? Not very. Throughout its history, the halftime entertainment has meandered from straight to gay and back again. (Click here for my homemade infographic rating the halftime shows from straightest to gayest.)

We're doing a season-long NFL roundtable with our friends at Slate. Check back here each week as a rotating cast of football watchers discusses the weekend's key plays, coaching decisions, and traumatic brain injuries.
At least that's what the New York Daily News' gossip moles overheard one of her dancers say at a party the other night. But before James Dobson can shift uncomfortably in his chair to craft a press release, somebody really ought to tell him Madonna's 20 years behind the times.