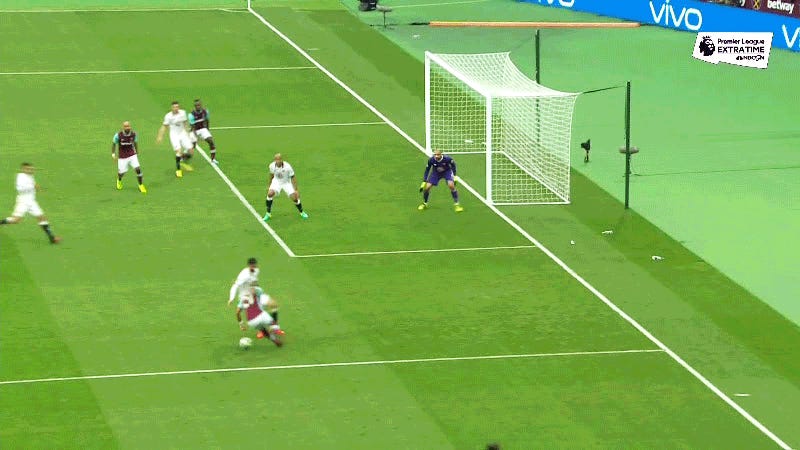 This is quite remarkable. Not the goal itself—which West Ham's Adrián scored in a meaningless testimonial match—but the impulse behind it.
Chelsea fell behind at home once again this morning, though it's hard to blame them for this Manuel Lanzini screamer from outside the box. The Blues haven't much but pride to play for at this point, and strikes like this from the Argentine aren't helping.
Man City keeper Joe Hart kept his side even with West Ham United with a brilliant save of a Dimitry Payet free kick that brought anguish to the supporters at Upton Park—especially Russell Brand, in attendance with pal Noel Gallagher. Depending on whether you think Brand is an asshole or if you think he's an asshole…
Manchester United manager Louis van Gaal shrugs off most criticisms with a sneer and a reminder of his groaning trophy shelf. "What can you possibly tell me," his look says, "Louis the Great?" But don't, for the love of God, impugn his tactics. For that offense, he will pull out all the stops to prove you wrong.
Premier League side West Ham has reportedly agreed to a 99-year lease to play at Olympic Stadium in East London, a deal that brings an end to a long, contentious bidding process and the question of what to do with an empty $700 million venue.
West Ham United threw itself a little end-of-season awards banquet on Monday night in London (to celebrate, ostensibly, West Ham's relegation after finishing last in the Premier League). Some of the team's fans attended the banquet, which turned out to be a very bad idea indeed: