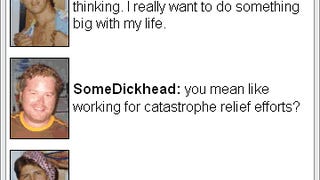 Will's always loved THE DUGOUT. Because hey, who doesn't like dick jokes in a chat interface most people don't use or understand? Take it away, gentlemen.


We all know Ron Zook pisses intensity, whereas Leitch piss is 30% meekness and 70% deference. Thankfully, the Illinois head coach took time out to send a message to Will through our good friend SPENCER HALL.
We continue today's roasting festivities with this utterly brilliant video from the one and only JE SKEETS, who today was granted a rare work release from his Yahoo! prison.