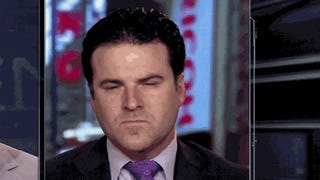 ESPN sports business reporter Darren Rovell is best known for being a sensitive penis who lacks a human brain and will believe literally anything. This morning, he once again did his part to solidify that reputation.
Since March, I've been following a goofy little blog — sorry, "bolg" — called "Zoo With Roy," one of the most refreshingly absurd things the internet has spit out in quite some time. Last night was special for him, obviously.
Yes, it's time for another go at a theme week for this site. Starting Tuesday, we'll be talking about all things bloody in sports, culminating with Pat Jordan driving out to Los Angeles to punch Sarah Silverman.