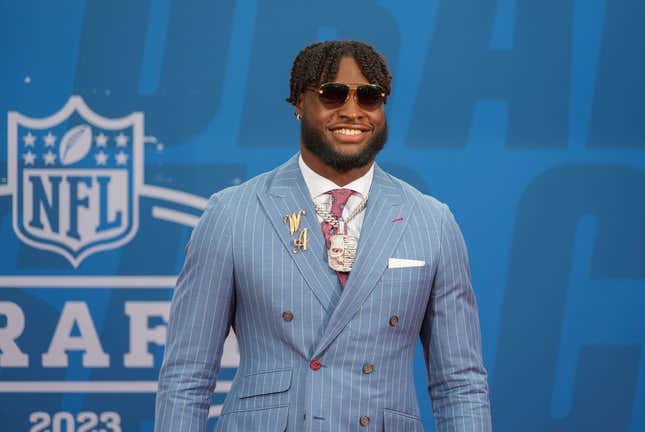 Three picks into the 2023 NFL Draft, the Houston Texans had already overhauled their roster
Will South Beach Flu give the Heat home court advantage? | Keep it a Buck(et)
The Texans selected Alabama edge rusher Will Anderson Jr. with the third pick in the draft on Thursday, giving the Crimson Tide two players among the top three picks
Houston acquired the No. 3 pick from the Arizona Cardinals moments after selecting Ohio State quarterback C.J. Stroud with the second pick, becoming the third team in the common draft era (since 1967) to have two picks in the top three
"It means they see how special I am," Anderson said on the stage Thursday of what it means that the Texans moved up to draft him. "You won't regret it.
The Texans acquired the No. 3 pick and a fourth-rounder (No. 105 overall) from Arizona in exchange for Nos. 12 and 33, plus a first-rounder and third-rounder in 2024
The last draft-day trade of a top-five pick was at No. 2 overall. In 2017, the Chicago Bears moved up one spot in a deal with the San Francisco 49ers to select North Carolina quarterback Mitchell Trubisky.
The 49ers received the third, 67th and 111 picks in the 2017 draft and what became the 70th pick in the 2018 draft. Trubisky led the Bears to one playoff appearance but has been on three NFL teams with a one-year stop in Buffalo. He'll be a backup for the Steelers in 2023.
New Orleans acquired the 67th pick in 2017 from the 49ers and selected Tennessee running back Alvin Kamara.
The No. 3 pick was moved in a draft-day trade in 2013, when the Miami Dolphins moved up for Oregon pass rusher Dion Jordan. The Raiders received the 12th and 42nd picks from the Dolphins. Oakland (now Las Vegas) drafted Houston cornerback D.J. Hayden (No. 12) and Florida State offensive tackle Menelik Watson.
Head coach Jonathan Gannon and general manager Monti Ossenfort loathe the term "rebuilding" to describe the state of the Cardinals, who lost nine of their final 10 games in 2022 and finished 4-13. The nosedive from 2021 NFC West division title (11-6) and playoff appearance to a top three draft pick resulted in a new braintrust leading the organization in January
Pass rush was a stated need for the Cardinals. J.J. Watt retired after leading the team with 12.5 sacks last season and Zach Allen left to join the Denver Broncos in free agency. He was second on the roster with 5.5 sacks last season and accumulatively, the Cardinals were 27th in QB pressures according to Pro Football Focus
Gannon ran the defense of the Philadelphia Eagles and prioritized the front four. The NFC champions in 2022 broke the record for sacks in a season, playoffs included, with 77 (69 in the regular season). Arizona had 76 total sacks in 34 regular-season games the past two seasons; 36 in 2022.
--Field Level Media