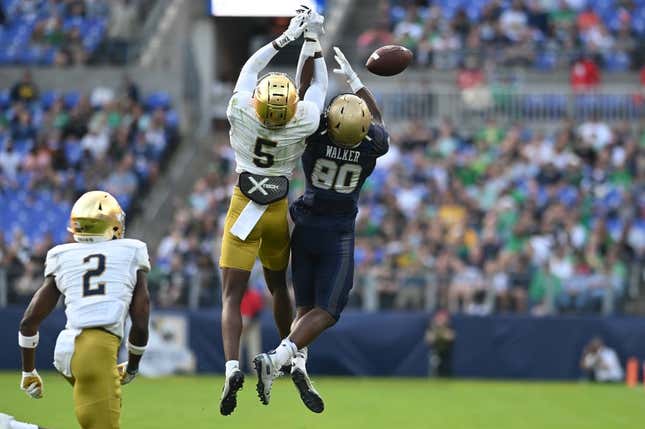 Scouts considered the climb of Illinois' Devon Witherspoon unexpected, as the No. 5 overall pick to the Seattle Seahawks came out of nowhere as an unrated recruit to the top of the CB class in the 2023 draft.
Which cornerbacks could emerge from the pool of talent as surefire first-rounders is open to debate with the 2024 draft class.
Here are five prospects to keep an eye on for next year's group, where Alabama's Kool-Aid McKinstry appears to be the only potential blue-chipper with top-15 tools.
1. Kool-Aid McKinstry, Alabama -- A junior this coming season, McKinstry has been in the starting lineup since he was a freshman and was an All-American last season.
It's no surprise given his natural ability and coverage skills. The former top recruit wows with outstanding balance, agility and stickiness in man coverage.
The ability to match up against almost anyone from a size or speed perspective is highly coveted by NFL teams and should make McKinstry the favorite to be the top corner in '24.
2. Cam Hart, Notre Dame -- A redshirt junior in 2023, Hart is huge, standing at 6-3, 200 pounds.
He has the prototypical build teams want for an outside corner with fluid movement skills. He can flip his hips and latch on in man coverage. The final piece of the puzzle is developing his read-and-react skills.
Teams that desire big, physical corners in press could fall in love with Hart but injuries in 2022 have teams wanting to see him return to 2021 form.
3. Nehemiah Pritchett, Auburn -- This super senior is trailed by some of the size questions that will tail teammate D.J. James (see below), but he has outstanding length with 33-inch arms, a major aid in jamming receivers at the line and making plays on the ball even when a step behind in man coverage.
His zone coverage chops are raw, but he'll be one of the best senior man coverage corners available.
Expect him to draw another Senior Bowl invite and push for a second-round draft grade.
4. Kamari Lassiter, Georgia -- A junior without top-end size or speed, limiting his chances to be a first-rounder. Even so, there's plenty to love about his game. He's technically sound in coverage with great balance and body control, rarely pulls himself out of position with mental mistakes and has a final eval that will greatly depend on testing data.
Lassiter will receive plenty of attention as a developed starter for a two-time national champion.
5. D.J. James, Auburn -- Another "super senior" and one half of the Auburn duo that received Senior Bowl 2023 invites and passed them up to return to the Tigers.
James ended the 2022 season as a lean 175-pounder at 6-foot-1, but the string-bean figure doesn't show up as the negative you'd expect. His footwork and technique in man coverage do need to be cleaned up.
A long strider with the speed to run vertically and the length to play the ball in the air, James could make a big jump on 2024 draft boards with another season to tune his tools to be in the top 75.
--Field Level Media