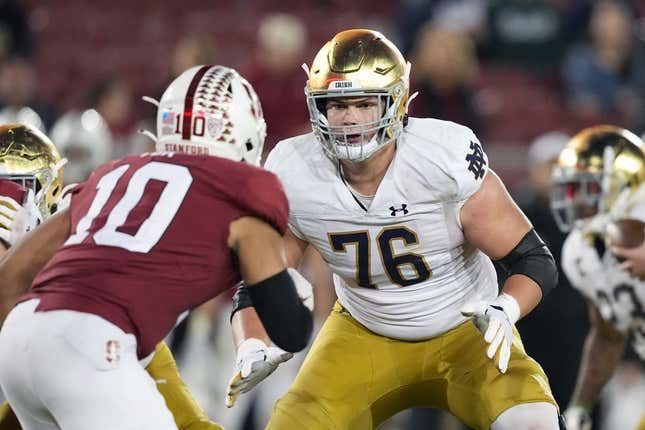 There is a strong chance the top two tackles eligible for 2024 would have been first-round selections in the 2023 NFL Draft.
Bass' ERA stinks, but not compared to who he is off the mound | Worst of the Week Countdown
For reasons all his own, Penn State's Olumuyiwa Fashanu shocked many when he opted to play another season.
He'll be pushed for top billing in the 2024 OT class by Notre Dame's Joe Alt, a complete prospect who draws raves with his length and pass-blocking acumen.
Here are the top five offensive tackles eligible for the 2024 NFL Draft.
1. Olumuyiwa Fashanu, Penn State -- Impressively built with a double-take frame, Fashanu was in the mix to be the top tackle in 2023 before opting for his fourth year in Happy Valley.
Massive but light enough on his feet to mirror in pass protection, his combination of mass and balance makes him nearly impossible to knock backward as a bull rusher.
Another year of fine-tuning should lock him in as a first-rounder.
2. Joe Alt, Notre Dame -- Length can be the true gamechanger for offensive linemen and Alt can measure up with anyone in that area.
He's a good athlete with the power and effort to be a force in the run game, but his ability to lock up almost any opponent in pass protection commands a pick in the top of the first round. If he has a good junior year and measures as expected -- in the 6-7, 310-pound range with the wingspan of a 747 -- he could emerge as the top tackle in 2024.
3. Julian Pearl, Illinois -- A super senior in 2023, Pearl uses the banked knowledge and training as a former defensive end to his advantage. He flipped to the offensive side of the ball midway through his college career, and rare natural tools made his development into a potential long-term starting NFL tackle nearly seamless.
He's an easy mover, closes in a blink and finishes at the second level. His 35-inch arms give him a wide margin of error and teams will appreciate his determination to return and get better despite being a likely first-rounder in 2023.
4. Jordan Morgan, Arizona -- Back for his super senior season in 2023, Morgan was sidelined in November 2022 by a season-ending ACL tear.
A well-built lineman with the traits to be either a starting tackle or guard at the next level, he likely would have been a top-100 pick in this class. Morgan will have nearly 14 months between his knee surgery and draft day 2024.
5. Walter Rouse, Oklahoma -- Rouse spent most of his career at Stanford and in a bidding war through the transfer portal, he caused tremors on the plains.
Rouse, entering his super senior season, committed to Nebraska before reversing course and picking the Sooners.
A heavy-handed -- and, less attractive to NFL GMs, heavy-footed -- right tackle who can be a solid run blocker. He could be jumped on this list by rising junior left tackles if he fails to progress technically.
--Field Level Media