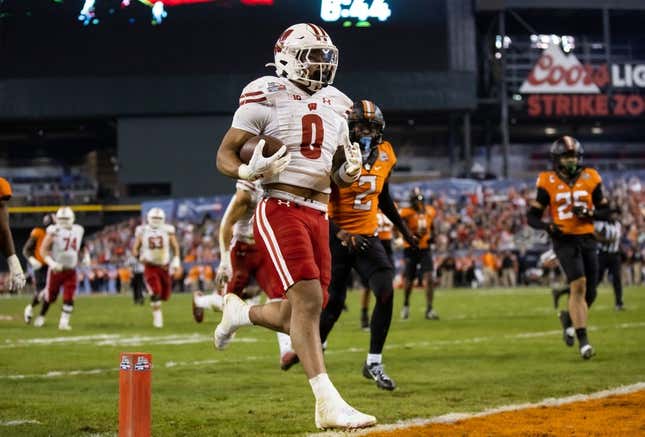 Texas running back Bijan Robinson was the peak of a packed running back crop in the 2023 NFL Draft, as evidenced by the Atlanta Falcons selecting him eighth overall last week.
'Soccer fandom is full of gatekeepers' says Ted Lasso actor Brendan Hunt
There is talent in the 2024 class, headlined by the returns of Blake Corum (Michigan) and Kendall Milton (Georgia) for their senior seasons to help keep this cupboard full.
Here's an early look at the top running backs potentially available next April.
1. Braelon Allen, Wisconsin -- Allen doesn't wow with his straight-line speed and is more of a downhill thumper with great size and strength for the position.
A natural at breaking tackles and moving the pile, he's an easy projection for most scouts.
Allen has the traits of a 1,000-yard runner and brings value in the passing game with soft hands and the size to win as a blocker.
2. Blake Corum, Michigan -- Corum's Heisman campaign in 2022 was cut short due to a knee injury, and the long recovery time likely played a role in his decision to return to the Wolverines. He's short and compactly built, but doesn't play small.
Top-end speed is his best attribute, making Corum the type of home-run threat that would make NFL defensive backs nervous.
3. Raheim Sanders, Arkansas -- A big and bruising SEC back with the vision and temperament to translate easily to the pro game, Sanders checks off almost every measurable that teams covet.
He adds impressive short-area wiggle for a big man, but his ability to win at the contact point and fight for difficult yardage stands out. A repeat of last year's production could push him above a third-round grade.
4. Kendall Milton, Georgia -- Milton spent most of his time at Georgia as a rotational back with career-high 86 carries as a junior last season. The lack of opportunities won't be a deterrent for NFL teams, as plenty of successful backs have come through Georgia without needing lead back production.
Milton brings excellent burst and power, all without accumulating much physical damage. He fits the mold of what NFL teams seek in big backs.
5. TreVeyon Henderson, Ohio State -- Henderson had a down year while playing on a fracture and torn ligament in his left foot, but when healthy the 20-year-old is one of the most dynamic backs in college football. He has good natural lever age and plays with lower pads through contact, but it doesn't prevent him from making quick cuts or eluding reckless tackle attempts.
Scouts have zero questions about his toughness based on his willingness to play through injury. But 2024 is a prove-it season. Henderson played in just five of the final nine regular-season games and missed the postseason.
He enters his junior season with a career average over 6 yards per carry.
--Field Level Media