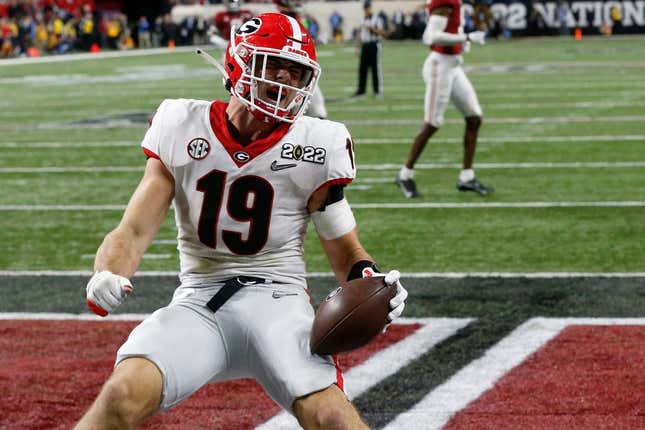 Utah's Dalton Kincaid was the lone first-round pick in a deep tight end class in 2023, hopping off the board at No. 25 to the Buffalo Bills.
Chris Paul should ride the bench next season | Keep it a Buck(et)
But Iowa's Sam LaPorta (34th), Notre Dame's Michael Mayer (35th) and Oregon State's Luke Musgrave (42nd) crashed the top 50 picks with two more tight ends picked in the second round (Luke Schoonmaker of Michigan to the Cowboys at No. 58; Penn State's Brenton Strange 61st to the Jaguars).
A deep class is coming right behind this one led by Georgia junior Brock Bowers, who is in the mold of former Florida "unicorn" tight end Kyle Pitts.
Here are the top five tight ends eligible for the 2024 NFL Draft.
1. Brock Bowers, Georgia -- Two years serving as arguably the best weapon on a national championship offense boosted Bowers to the top of the 2024 tight end rankings.
In reality, he's used more as a big slot receiver than he is a traditional tight end. He's too gifted to stack on the line and with natural tools to dominate inside and in jump-ball situations, Bowers' impact is limited only by the imagination of his offensive coordinator. He runs jet sweeps for the Bulldogs, showcasing rare speed and agility.
2. Cade Stover, Ohio State -- Perhaps he's not the rare talent Bowers appears to be as a prospect, but Stover has a good shot at being the highest-drafted tight end out of Columbus since Rickey Dudley went ninth overall in 1996.
An aggressive blocker who bullies linebackers and stands his ground against defensive ends, he isn't lacking in quickness or ball skills as a receiver.
3. Erick All, Iowa -- A new arrival for Iowa by way of Michigan, All missed most of the 2022 season due to injury and had surgery on his spine last October. Proving he's healthy short- and long-term is an obvious must.
Pre-surgery, he had remarkable burst for his size. A healthy year in the Hawkeyes' tight end factory could do wonders for his value.
4. Benjamin Yurosek, Stanford -- Lanky and has an enormous catch radius with game-changing length when functioning as an in-line blocker. The two-year starter isn't elite in any one area. He provides value across the board as a receiver and blocker.
5. McCallan Castles, Tennessee -- Castles spent two years as a backup at California before transferring to UC Davis to play out his college career. A dominant couple of years at the FCS level put him on the map.
Castles passed up the NFL in favor of a season with the Volunteers. He is likely a fourth- or fifth-round pick preseason, but he could work his way into the bottom of the second round with a strong season in the SEC.
--Field Level Media