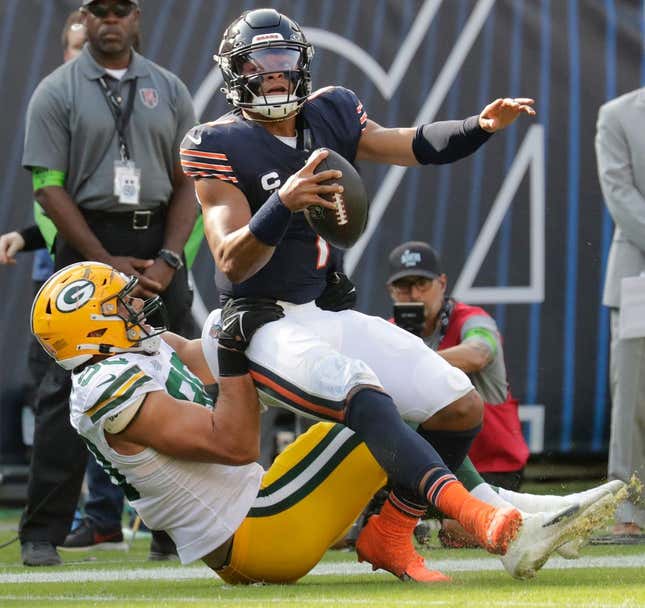 Offseason hype and preseason hope hit the brakes for a handful of NFL players in Week 1 of the 2023 season.
How running an NFL team is like running a restaurant | Chef Emeril Lagasse
Justin Fields for MVP? Daniel Jones taking the next step? Steelers out of their slumber in the AFC North?
Overreaction comes naturally from fan bases. Pride and pressure are factors for players who failed to perform or missed chances to deliver desired results.
Here are five players on the hot seat entering Week 2:
—Giants QB Daniel Jones
Not to say the goose egg in Week 1 falls entirely on Jones' shoulders. It's not his fault. He's entitled to an extra share of the blame by virtue of the four-year, $160 million contract he bagged in March.
We could list offensive linemen by name and underline whether Brian Daboll's QB whisperer credentials were burnt to a crisp by looking wholly unprepared to deal with a division rival on Sunday night. Instead, we're keeping the tight focus on the highest-paid player on the roster.
Jones completed 15 of 28 passes and was sacked seven times. It wasn't a matter of not having time to throw. He averaged 3.04 seconds in the NFL's "time to throw" metric, which was fifth-best in the NFL through Sunday's games. Credit coverage while questioning if the Giants have enough skill outside to consistently separate and give Jones windows for downfield completions.
Not to be overlooked on the hot seat, special mention for right tackle Evan Neal. He had a rough night and said after the game he was "embarrassed" by the 40-0 result.
Up Next: At Arizona
Say what?
"I'd say we got a lot of work to do in every area." —Brian Daboll after Week 1 loss to Dallas
—Bears QB Justin Fields
If this is the season general manager Ryan Poles plans to measure Fields' ability to be a true pocket passer, Week 1 must be graded as an incomplete.
NFL Next Gen Stats reveal Fields averaged 3.3 "intended air yards" and the same "complete air yards" per attempt. Only the Atlanta Falcons with Desmond Ridder in his fifth career start (3.0 IAY, 2.3 CAY) were less aggressive than the Bears.
Fields never looked comfortable against the Packers and head coach Matt Eberflus said in his assessment of the offense on Monday morning that the Bears "certainly need to threaten the defense down the field." The ultra-conservative approach also shows up in the Bears' offense averaging 6.9 yards to the sticks, a strong indictment of the team's woes on first and second downs.
On the bright side, Fields led the team in rushing with 59 yards and attempts (nine). But he was also sacked four times.
Up Next: At Tampa Bay
Say What?
"Nobody's in good spirits. This one hurts. I'm not going to lie to you. I want to say sorry to teammates, to fans who were rooting for us. But we'll bounce back." — Justin Fields on losing Week 1.
—Colts RB Deon Jackson
In a Week 1 loss to the Jaguars, Colts running backs combined for 25 yards on 16 carries and Jackson averaged 1.1 yards per carry with 13 rushes for 14 yards in his bid to fill the role vacated by Jonathan Taylor. Taylor (ankle) is on the physically unable to perform list and might not return because of his standoff with the team over his contract.
Now the question for the Colts is whether Jackson returns as the starter in Week 2. He lost a fumble on fourth down and each of his five receptions (for 16 yards) was on a safety outlet valve toss from rookie QB Anthony Richardson. Zack Moss was inactive with a forearm injury and could be back as an option this week.
Rookie Evan Hull (knee) left Sunday's game with a knee injury, which could require the team to add a running back. Worth noting: free agent Kareem Hunt visited the team last month and was reportedly offered a contract.
Up Next: At Houston
Say What? "We like what Deon has done. We think Deon has taken another step." — Colts GM Chris Ballard on Deon Jackson.
—Chiefs WR Kadarius Toney
He had four extra days to hear about his three critical drops — one that led to a Pick-6 — in Kansas City's flat opening night showing and 21-20 loss to the Detroit Lions. Toney's catch percentage of 20 percent highlights his issues in a spot where the Chiefs were counting on him to help ease the absence of tight end Travis Kelce.
Up Next: At Jacksonville
Say What?
"Obviously he would have wanted to catch a few of those in the game but I have trust that he is going to be the guy that I go to in those crucial moments and he's going to make the catch and win us some games like he did last year ... I'm sure that those drops will disappear." — Patrick Mahomes on Kadarius Toney.
—Ravens QB Lamar Jackson
No longer sweating his salary — Jackson signed a five-year deal after being hit with the franchise tag — and given more input in the system of first-year coordinator Todd Monken, some version of MVP Lamar Jackson was envisioned in Week 1.
Security blanket Mark Andrews was inactive but Jackson was ineffective for long stretches, had two turnovers (fumble, INT) and further modifications to the offense are likely with running back J.K. Dobbins lost for the season to a torn Achilles.
Jackson led the Ravens in rushing (no surprise) and did flash moments of brilliance in the pocket. See the perfectly placed toss to Odell Beckham Jr. to convert a 3rd-and-6 with 7:28 left in the game and a 22-9 lead.
We're giving Jackson a mulligan considering this was his first game since November 2022. He missed the final six games last season and didn't play in preseason games.
Up Next: at Cincinnati
—Bengals QB Joe Burrow, Broncos PK Will Lutz, Saints LT Trevor Penning, Seahawks secondary, 49ers RT Colton McKivitz, Steelers QB Kenny Pickett
Burrow completed an NFL-low 45.2 percent of his passes at Cleveland, where defensive end Myles Garrett and a constant Browns' pass rush helped doom the Bengals.
Acquired via trade by the Broncos, Lutz missed an extra point and 55-yard field goal in a 17-16 loss.
Penning was responsible for multiple sacks of Saints quarterback Derek Carr.
The Rams blew up the Legion of Boom. Only Dolphins QB Tua Tagovailoa (10.9) had a higher "completed air yards" number in Week 1 than Rams QB Matthew Stafford (9.2).
McKivitz was promoted to the starting RT job when Mike McGlinchey joined the Broncos in free agency. On Sunday he was baptized by T.J. Watt of the Steelers. He had three sacks and a forced fumble.
Pickett had a lot of positive press in the preseason but was erratic and helped the Steelers dig a massive hole they couldn't climb out of against the 49ers.
—Field Level Media