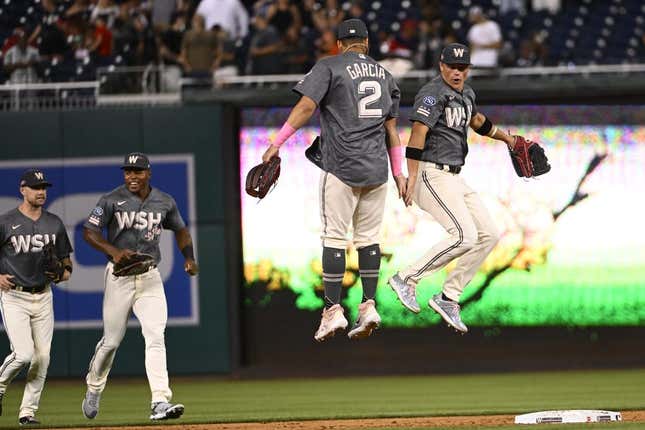 The Washington Nationals would like a positive streak for a change when they play Saturday night
How running an NFL team is like running a restaurant | Chef Emeril Lagasse
The San Francisco Giants are trying to dodge an even worse patch from what they've been experiencing lately
The middle contest of the three-game series in Washington, D.C., on Saturday comes a night after the teams combined for four home runs.
Washington began a six-game homestand with Friday night's 5-3 series-opening victory over San Francisco. The Nationals have won just two of their past six games, and an extended successful string might not look likely
"It was a very, very good day," Washington manager Dave Martinez said. "I love the way we played."
But can they do it again? The Nationals have won home games on consecutive days only once since May 20-21
San Francisco had three stretches of four or more consecutive losses prior to the All-Star break, so it will aim to avoid that trend from developing again.
During their current three-game skid, the Giants have racked up a total of only six runs and 13 hits. It's going to take a certain level of determination to get back on track
"This is true for our entire offense right now, that really grinding approach (is needed)," manager Gabe Kapler said.
San Francisco had so few offensive threats that it left only three runners on base -- all in the seventh inning -- on Friday night.
If there was a positive part for the Giants, it came with Joc Pederson launching his first home run in more than a month. His two-run blast doubled his RBI total for July
"Just trying to tighten some things up," Pederson said. "It's just a constant game of putting the pieces together to make the swing work. I'm a long ways from figuring it out. I'm glad that the work translated to the game (Friday) and come back tomorrow and continue to do the same work. It's a constant battle."
Lane Thomas joined CJ Abrams in going deep on Friday for the Nationals. Thomas has five first-inning homers among his 16 total home runs
"I don't know if there's a huge difference," Thomas said.
The Giants have right-hander Logan Webb (8-7, 3.11 ERA) lined up as their starting pitcher for Saturday's game. Webb has sizzled in three July starts, securing a 1.59 ERA in those games though just one victory. Still, San Francisco has won games in six of his past eight starts
Webb allowed one run over seven innings in a 4-1 victory over the Nationals on May 9. He's 3-0 with a 2.78 ERA in four all-time starts when facing Washington
Right-hander Josiah Gray (6-8, 3.59) is set to be Washington's starter on Saturday. Although he pitched well during his one-inning stint in the All-Star Game, Gray's July hasn't been impressive in his two other appearances this month. He yielded nine runs (seven earned) on 18 hits in 10 innings combined in losses to the Cincinnati Reds and St. Louis Cardinals.
Gray picked up the win over San Francisco on May 10 after allowing two runs on five hits in seven innings.
He has reached the seven-inning mark just twice since then. Still, in three career meetings (two starts) versus the Giants, Gray is 2-0 with a 3.18 ERA
--Field Level Media