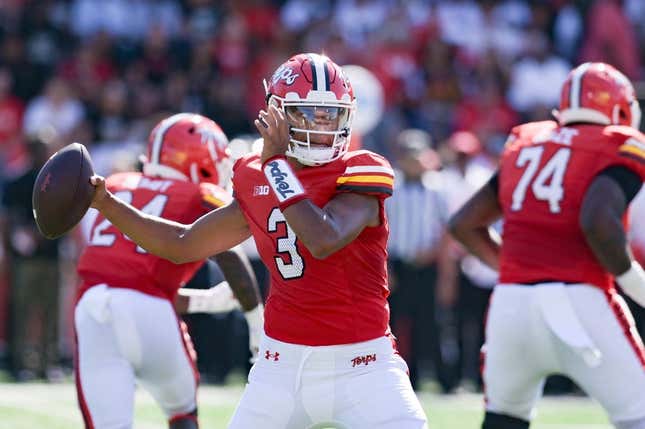 Taulia Tagovailoa tossed for three touchdowns and ran for one as host Maryland cruised 38-6 to a win over FCS foe Towson in the season opener for both teams on Saturday in College Park, Md.
How running an NFL team is like running a restaurant | Chef Emeril Lagasse
Tagovailoa scored on the first possession of the Terrapins' season, a 23-yard scramble wide open to his right. He went on to hit three receivers for touchdowns and finished 22-of-33 for 260 yards.
Beginning his fourth season as Maryland's starter, Tagovailoa became the first player in program history to surpass 8,000 career passing yards. He took a shot during the first drive that appeared to leave him shaken up, but he played through it until exiting late in the third quarter with the game in hand.
Roman Hemby ran for 58 yards and a touchdown on 12 carries for Maryland.
The Terrapins' defense bent but didn't break, holding Towson's Nathan Kent to 128 yards on 16-of-31 passing.
Maryland tight end Corey Dyches racked up a team-high 108 yards on six receptions. He also caught Tagovailoa's first passing touchdown, a 23-yarder with 4:29 left in the first quarter.
Jeshaun Jones caught a pass on a comeback route, shook his defender and had an easy path into the end zone from 24 yards out to make it 21-0 in the final minute of the first.
Keegan Vaughan made a 36-yard field goal for Towson at the end of a 54-yard drive, but with 14 seconds left in the half, Tagovailoa hit Kaden Prather for 13 yards over a defender in the back-right corner of the end zone to give Maryland a 28-3 halftime lead.
Hemby cut his way through the defense for a 9-yard touchdown early in the third quarter. Hemby led a Terrapins rushing attack that finished with 166 yards (4.6 per carry).
Vaughan made a 38-yard field goal to conclude a 16-play, 53-yard Towson drive late in the third quarter, and Evan Johnson replied for Maryland with a 24-yarder in the fourth.
—Field Level Media