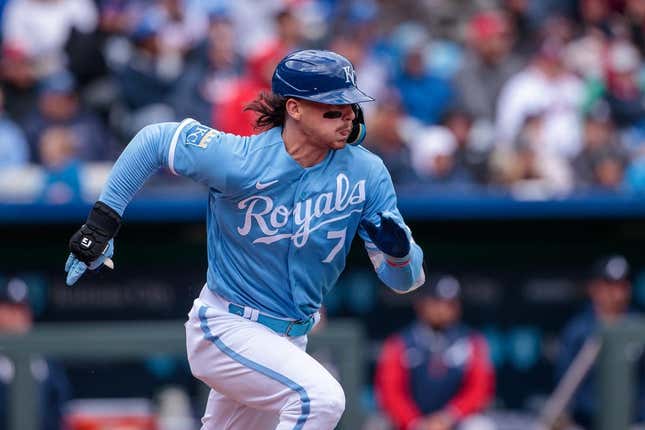 No Chris Sale for us, and Trout is far too expensive.
On tax day, we're going bargain hunting to assemble a complete lineup of Major League Baseball's best bargains.
Will South Beach Flu give the Heat home court advantage? | Keep it a Buck(et)
With all due respect to the accomplished Red Sox lefty, Sale ($27.5 million) is much to steep and Mike Trout stands to make about $37 million in 2023.
We're writing off those All-Stars for this exercise and shopping the value bin to put together the best lineup short money can buy:
Catcher: Adley Rutschman or William Contreras?
Rutschman, 25, the first overall pick in the 2019 draft and cornerstone of the Baltimore Orioles, is making just $733,900 in 2023.
Contreras, 25, whom the Milwaukee Brewers acquired in the offseason following a 20-homer All-Star campaign in just 97 games, is due to earn $739,000. Neither are arbitration-eligible until 2025.
Tough call, but we'll go with Rutschman and that limitless potential.
First base: The Orioles are known for having a low payroll, with potential stars making at or near the league minimum. Among those young players is Ryan Mountcastle, 26, who averaged 27.5 homers and 87 RBIs the past two seasons. He's due to make just $738,400 in 2023.
Second base: Coming off a breakout season in 2022 (.281-10-55, 20 stolen bases), former first-round pick Nico Hoerner, 25, of the Chicago Cubs will make $2.525 million in 2023 before a three-year, $35 million deal kicks in next season.
Shortstop: The decision boils down to Houston Astros' Jeremy Pena, 25, or the Kansas City Royals' Bobby Witt Jr., 22, the second overall pick in the 2019 draft?
The pair posted similar impressive numbers in 2022 as rookies, but Witt also stole 30 bases and is projected by Fangraphs to annually hit 25 homers and be the cornerstone of Kansas City's rebuild. Witt will take home just $745,750 in 2023.
Third base: Despite the Philadelphia Phillies' high payroll, there are bargains to be found on the roster, including former first-round pick Alex Bohm. The 26-year-old, who hit .280-13-72 last season and fixed his defensive issues, will make just $748,000 before becoming arbitration-eligible in 2024.
Outfield: Julio Rodriguez is a no-brainer on this list, having burst on the scene last season (.280-30-84, 29 steals) en route to claiming AL Rookie of the Year honors. The 22-year-old Seattle Mariners star center fielder, who signed a 12-year, $209.3 million contract, is set to earn $5.912 million this year.
Over the past two seasons, Texas Rangers right fielder Adolis Garcia, 30, has averaged 29 homers and 95.5 RBIs, but is only making $747,760 this season, which ranks 95th among all major league outfielders, according to Spotrac.
While elite outfield prospect Corbin Carroll did sign an eight-year, $111 million contract with the Arizona Diamondbacks this spring, the 22-year-old center fielder -- and potential 30-30 player -- is on the books for just $1.625 million this season.
Designated hitter: Though he's making $30 million on a one-year deal, Los Angeles Angels superstar Shohei Ohtani, 28, must be somewhere on this list. For what he brings to the table as a perennial MVP and Cy Young Award candidate, the 2021 AL MVP and likely future Hall of Famer offers tremendous value. He'll likely command a long-term contract in the $500 million range after this season.
For a player who's mainly a DH, Houston Astros superstar Yordan Alvarez might be the biggest bargain in baseball. The 2019 AL Rookie of the Year has 70 homers and 201 RBIs the past two seasons, playing a major role in the Astros winning the World Series in 2022. Despite the gaudy numbers, the 25-year-old will earn just $7.83 million this season, the first year of a six-year, $115 million deal.
Starting pitcher: Yet another toss-up as Miami Marlins ace Sandy Alcantara and fellow right-hander Shane McClanahan of the Tampa Bay Rays are both viable candidates.
Alcantara, 27, is the reigning NL Cy Young Award winner after going 14-9 with a 2.28 ERA and a 1.18 WHIP for a fourth-place club, yet he is set to make just $6.3 million in 2023. His five-year, $56 million deal, which began last year, places him 54th among major league starters in annual value, according to Spotrac.
As for McClanahan, the ace of the Rays' talented rotation will take home just $737,000 in 2023 before he's arbitration-eligible next year. A 2022 AL All-Star in just his second big league season (12-8, 2.54 ERA, 1.17 WHIP, 194 strikeouts), the 25-year-old is a major bargain for a perennial contender.
Alcantara thrives despite being on a terrible team, so he gets the edge.
Reliever: Ryan Helsley emerged as one of the game's best closers in 2022, but the St. Louis Cardinals righty ranks just 96th among relievers in 2023 salary at $2.15 million, according to Spotrac. That's rather low for a 28-year-old who finished 2022 with 19 saves, a 1.25 ERA and 94 strikeouts in 64 2/3 innings.
--By Liam Fitzgerald, Field Level Media