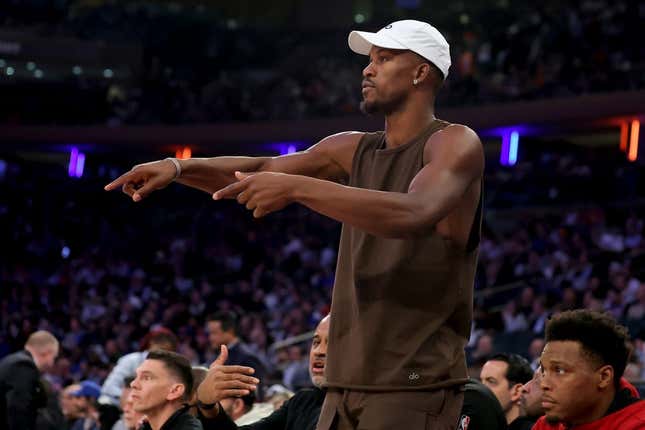 Teammates are counting on Jimmy Butler to play in Game 3 after sitting out the Miami Heat loss at Madison Square Garden earlier this week
Bass' ERA stinks, but not compared to who he is off the mound | Worst of the Week Countdown
Butler was idle for Game 2 on Tuesday, the Heat lost to the New York Knicks and the Eastern Conference best-of-seven semifinals series is tied 1-1. A healthy Butler put up 25 points before exiting Game 1 with a sprained right ankle
But the schedule irregularity granting Butler five days since he last suited up feeds the Heat belief that he will be back Saturday in Miami
"I know where his heart is. I know what he wants to do. This isn't a decision between he and I," Heat coach Erik Spoelstra said of sitting the 33-year-old Butler for Game 2
Forward Kevin Love said there was no noticeable limp from Butler at Thursday's practice and oft-injured Kyle Lowry had a lean as to whether he'd be sharing the backcourt with Butler in Game 3.
"As a guy that knows how competitive he is, I would be optimistic," Lowry said.
No. 8 Miami steamrolled No. 1 seed Milwaukee out of the playoffs thanks to Butler's opening-round heroics.
In six playoff games, Butler is averaging 35.5 points, 6.8 rebounds, 4.7 assists and shooting 43 percent from 3-point range. He had 98 points combined in the closeout games of the series (Game 4, Game 5) against the Bucks.
Knicks head coach Tom Thibodeau coached Butler in previous stops with the Bulls and Timberwolves. He's planning, and game-planning, for Butler to be on the floor in Game 3.
"I have a lot of respect for Jimmy, the type of player he is ... you know he's gonna be locked in and engaged regardless of (if) he feels bad, he'll be great," Knicks forward Julius Randle said Thursday. "So we just wanna make it as hard as we can for him and just limit our mistakes on our end when we're guarding him."
--Field Level Media