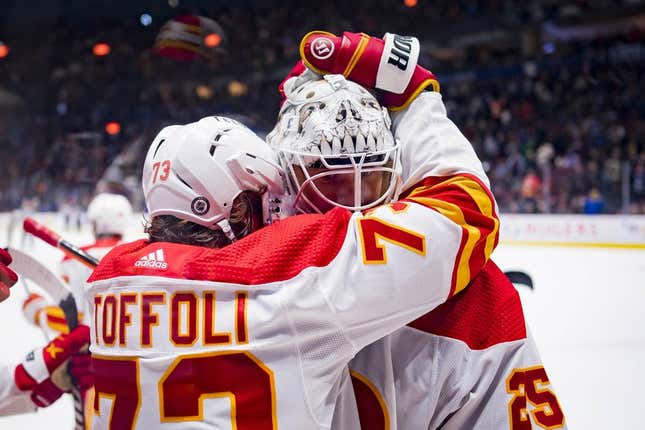 Both the Calgary Flames and Nashville Predators have been hoping for a miracle run to make the Stanley Cup playoffs
Air Jordans are more American than McDonald's French fries | Deon Cole's Ultimate Sports Fantasy
When they meet Monday in Calgary, a loss will likely force one of the teams to give up on their postseason aspirations.
Heading into the night's action, both the Flames and Predators will be in arrears to the Winnipeg Jets in the chase for the Western Conference's final wild-card spot
The Flames (37-27-16, 90 points) are one point behind the Jets with two games remaining. The Predators (40-31-8, 88 points) are three points back with three dates on the schedule. Winnipeg has three games left in the regular season, including Monday's home clash with the bottom-feeding San Jose Sharks
Both the Flames and Predators are coming off disappointing losses, too. On Saturday, the Flames erased a 2-0 deficit in the third period but dropped a 3-2 decision in a shootout to the Vancouver Canucks, while the Predators fell 2-0 to the Jets
"The last two periods, we were dominating," Flames forward Elias Lindholm said. "Had a lot of chances to score some more goals and I think we could have put this game away earlier than what happened out there. ... Tough loss. Just got to re-group, go again on Monday and Wednesday, and anything could happen.
Slow starts have been a huge issue for the Flames and are a big reason why they are on the verge of elimination. They have surrendered the game's first goal in five consecutive outings and have trailed by at least a 2-0 score in six of the last 11 games
"Sloppy start, sloppy first period. Then, in the second and third, I thought we were the better team," Calgary defenseman Rasmus Andersson said. "We had some long O-zone shifts and were creating some looks, but (Canucks goalie Thatcher) Demko was kind of standing on his head. Second, third and overtime, we probably deserved to get that extra point, but it doesn't happen.
"It's frustrating, but we move on."
The Predators have the exact same game plan -- regroup and hope to win every game the rest of the season while the Jets stumble
"This group is resilient," Nashville coach John Hynes said. "We always respond. It's taking the lessons out of this game. This didn't go the way we wanted it to go, but we're still hunting, we're still going to put pressure on this team.
"There are certain areas that we need to be better in. We will be better in. We always respond the right way. We need to rest up, rejuvenate tomorrow and be ready for Monday."
The Predators are certainly surprising the hockey world by simply remaining alive in the playoff fight for this long. They dealt away a few key players and have had injury woes, but continue to battle
Then again, it helps that they continue to get top-shelf goaltending from Juuse Saros, who made 36 saves, 19 in the second period, against the Jets.
"It was a tough game. They were better and earned the points, but we'll keep on fighting. ... It doesn't really change for us," Saros said. "We're just going to have to stick together and believe we're going to win."
--Field Level Media