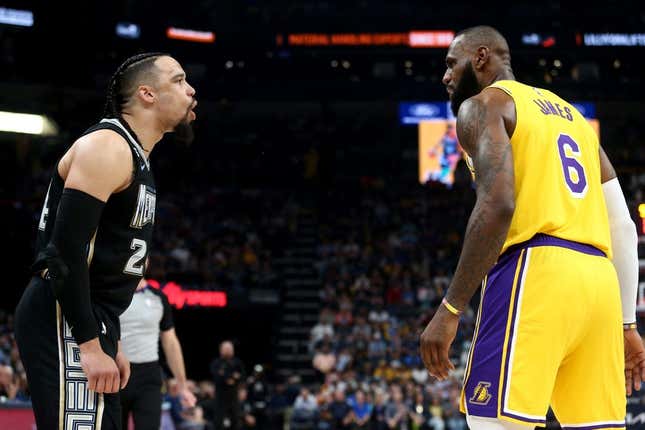 The mystery of whether Memphis Grizzlies star Ja Morant will play Saturday night might not be resolved until close to tipoff for the second straight game
'Soccer fandom is full of gatekeepers' says Ted Lasso actor Brendan Hunt
Morant's injured right hand is improving but the Grizzlies again see him as a game-time decision and are listing him as questionable for Game 3 of the Western Conference first-round series against the host Los Angeles Lakers on Saturday
Morant participated in a non-contact practice on Friday, and that development shows improvement after he was ruled out of Wednesday's Game 2 less than an hour before tip-off.
"He's still navigating a little bit of pain, but there's improved symptoms for sure," Memphis coach Taylor Jenkins said Friday. "It's so much better than it was two days ago."
The Grizzlies plan to have Morant work out on Saturday before making the call
Second-seeded Memphis evened the testy series at one game apiece without Morant, prevailing 103-93 at home on Wednesday.
Lakers guard Austin Reaves sees that result and said the Grizzlies have to be respected even if Morant doesn't play
"They have proven in the last two years that they play really good basketball with or without him," Reaves said. "So we knew it was going to be a challenge. They were desperate and they played harder than us."
Meanwhile, tension between Memphis' Dillon Brooks and the Lakers' LeBron James figures to grow thicker after the Grizzlies' antagonist termed the NBA's all-time leading scorer as "old" after Game 2
Brooks is 11 years younger than the 38-year-old James. While he admits James is a legend, Brooks insisted the 19-time All-Star's level of play has dropped.
"He's not at the same level that he was when he was on Cleveland winning championships, or Miami," Brooks said of James. "I wish I got to see that. It would have been a harder task, but I'm playing with what I've got. Just wear and tear on him throughout a seven-game series and see if he can take it."
James, a four-time league MVP, certainly was irritated by the lack of respect coming from Brooks.
He cut off his media session after five minutes Friday when all the questions were Brooks-related.
"I'm not here for the (B.S.)," James said. "I'm ready to play and that's it."
James made it clear that how well people play -- as opposed to how much they talk -- decides the winner of basketball games.
"I mean at the end of the day, there's 10 guys on the floor," James said. "They're one of the best defensive teams in the league and we have to respect that. No matter who is out in a Grizzlies uniform during that particular time, during that quarter, during that minute, we've got to respect everybody and we got to execute offensively.
James scored 28 points in Game 2 for the seventh-seeded Lakers and is averaging 24.5 points in the series
James could use some help from Anthony Davis, who struggled throughout Game 2 while recording 13 points on 4-of-14 shooting.
"I like all the shots I took," Davis said. "I just missed them. A lot of shots close to the rim I normally make. Flush it and get ready for (Game 3)."
Davis did block five shots -- all in the first half -- but he was outplayed in the interior by Memphis' Xavier Tillman, who scored a career-high 22 points on 10-of-13 shooting while collecting a season-high 13 rebounds.
The breakthrough effort came after Tillman had just two points in 22 minutes in Game 1.
"I was trying to assert myself," Tillman said after Game 2. "Watching the film of the first game, I didn't really assert myself. I was going through the motions. Coach had mentioned in a couple of meetings we had about the urgency that we need to play with. So I just felt like I needed to turn up my energy level and be more assertive and aggressive."
--Field Level Media