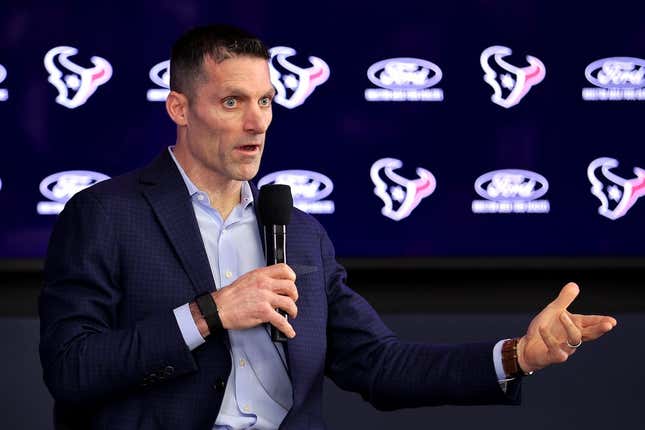 Houston Texans general manager Nick Caserio is facing huge decisions 10 days before the 2023 NFL Draft, but he insists leaving the franchise is not among them
Bass' ERA stinks, but not compared to who he is off the mound | Worst of the Week Countdown
Joking that colleagues are reaching out "laughing about it," Caserio asked reporters if they could help find the source of the information, which is known to be former Patriots, Raiders and Browns executive Michael Lombardi.
"I'm not leaving," Caserio said Monday in a pre-draft press conference at NRG Stadium. "There's never been any substantive discussions of the sort. I'm almost embarrassed I have to say anything. I feel an obligation to make that statement."
The former right-hand man in the front office to Patriots head coach Bill Belichick, Caserio was hired as general manager to fill the role previously held in Houston by fired head coach Bill O'Brien.
Caserio's tumultuous tenure with the Texans including firing first-year coach David Culley, replacing him with Lovie Smith and then firing Smith after one season in February, and replacing him with DeMeco Ryans
Ryans takes over as coach of a team with just seven wins in Caserio's two seasons since he was hired in January 2021. He was able to find a trade partner for the Texans after deactivating quarterback Deshaun Watson for every game in 2021 due to legal woes and locker room drama
Last season, Houston won the regular-season finale on a Hail Mary at Indianapolis to lose the No. 1 pick. The Chicago Bears claimed the spot, then dealt the pick to the Carolina Panthers. The Texans have the second and 12th picks in the first round; No. 12 overall belonged to the Browns, who owed the selection to Houston as part of the deal to acquire Watson
Ryans said the Texans aren't looking for a "franchise savior" with the No. 2 pick and wants to build the most complete team possible. Caserio on Monday sounded as if he's in complete lockstep with his new coach, who played linebacker for the Texans and most recently ran the San Francisco 49ers' defense
"We have a lot in common with how we view players, how we see a football team, the things we deem important," Caserio said. "We talk daily on all those matters. I've really enjoyed my time with him in a limited time. I can't speak highly enough about him as a person and a football coach, his viewpoint, his perspective."
--Field Level Media