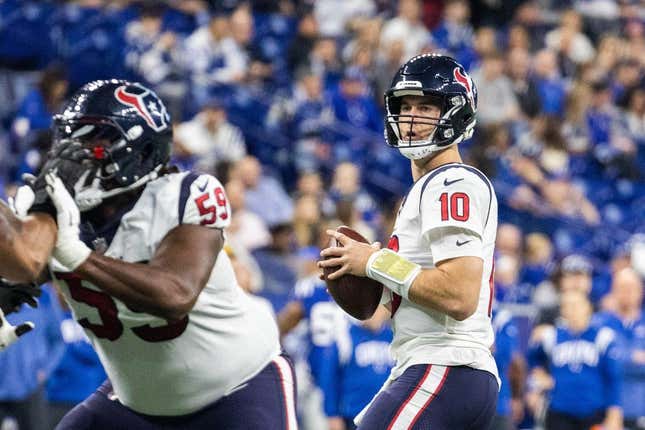 A notable training camp battle is already brewing in Houston where new head coach DeMeco Ryans said the role of QB1 will be decided via open competition between Davis Mills and rookie C.J. Stroud.
Is Texas or Florida State a bigger national title contender? | Agree to Disagree
It's the third-round pick in 2021 (Mills) vs. the No. 2 overall pick in 2023 (Stroud).
"We'll see where their process goes in training camp and see as the competition continues," Ryans said Tuesday. "We'll see who separates themselves."
Tuesday was Day 1 of the Texans' mandatory minicamp
Stroud and Mills have rotated reps with the first team all throughout the offseason program, from OTAs to this week's minicamp. Stroud ran the first team Tuesday because it was his turn.
"They've been rotating each week," Ryans said. "As you guys came to practice, you've seen we've rotated those guys each week, and this just happened to be the week that C.J. was running with the ones."
Mills, 24, has a track record, albeit on a losing team -- he's 5-19-1 as the Texans' starter the past two seasons, under two different head coaches and offensive schemes. He's thrown for 5,782 yards and 33 touchdowns against 25 interceptions in 28 games overall
Stroud, 21, meanwhile, continues to learn the pro game.
"The best thing I've seen about C.J. with his improvement and his growth is he doesn't make the same mistake twice," Ryans said. "He learns from his mistakes, he puts those behind them, and he finds a way to continue to improve and get better."
--Field Level Media