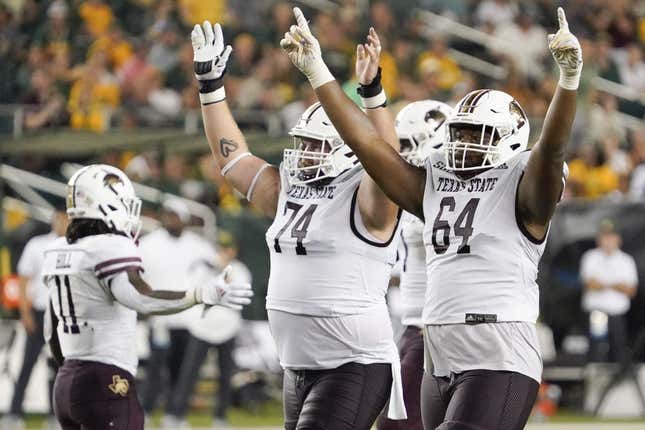 T.J. Finley threw for 298 yards and three touchdowns to lead Texas State to a 42-31 road upset of Baylor on Saturday.
How running an NFL team is like running a restaurant | Chef Emeril Lagasse
Baylor entered as a 26.5-point favorite.
Finley, a transfer from Auburn, threw two touchdown passes in the first half to help stake Texas State to a 28-13 lead at halftime.
Baylor scored on its opening possession of the second half, cutting its deficit to 28-21 after a 53-yard touchdown pass from Blake Shapen to Drake Dabney and a 2-point conversion pass to Ketron Jackson.
Texas State countered, taking a 35-21 lead with 10:18 left in the third after a 16-yard touchdown run by Finley to cap off an eight-play, 75-yard drive.
Baylor cut its deficit to 35-24 with 1:47 left in the third quarter on a 24-yard field goal by Isaiah Hankins. But Texas State went up 42-24 on a 26-yard touchdown pass from Finley to Joey Hobert with 13:52 remaining.
Baylor inched closer, cutting the Texas State lead to 42-31 with 8:52 remaining on a 2-yard touchdown pass from Shapen to Dabney.
Baylor then drove down to the Texas State 17-yard line, but an interception by backup quarterback Sawyer Robertson with 3:52 remaining ended the threat.
The Bears forced a punt after that and got the ball back with 2:43 remaining, but a fumble by Robertson that was recovered by Texas State at its 15-yard line with under two minutes remaining all but ended the game.
The Bobcats took a 21-6 lead with 9:11 left in the second quarter on a 27-yard touchdown pass from Finley to Donerio Davenport.
Baylor got into the end zone for the first time, cutting its deficit to 21-13 with 4:06 left in the second quarter on a 9-yard touchdown run by Shapen.
But with 48 seconds remaining in the second quarter, Texas State extended its lead to 28-13 on a 1-yard touchdown run by Jahmyl Jeter, which finished off a 12-play, 75-yard drive.
—Field Level Media