Cobb County taxpayers have been on the hook for close to $400 million since the county commissioners approved the Braves' expensive new stadium construction project without hearing from dissenters and without letting the constituents vote on the deal almost three years ago. Residents made their displeasure known by voting the county Chairman who had overseen the deal out of office, but that won't necessarily save them from having to pony up another $14 million before the new stadium can actually open in a few months.

According to a report in the Atlanta Journal-Constitution, the Braves are seeking reimbursement on several projects that are already under construction totaling $14 million. The report also includes a comment from a lawyer who's worked on several stadium financing cases confirming that, yeah, it's a little weird that the billionaires first paid out of pocket and are now demanding tax money as restitution.
The Braves and the Cobb department of transportation agree that original contracts allocated $14 million in public funds to stadium-related transportation improvements. Where they disagree is on the issue of whether the millions in taxpayer dollars already spent on roads and walkways near the park fulfill that obligation.
The county is holding out—claiming that they've already spent $69.5 million on related road projects. In a December memo to County Manager David Hankerson, Cobb transportation director Jim Wilgus argued that, "We feel this satisfies Cobb County's transportation improvement contribution."
Derek Schiller, the Braves' president of business, countered that projects started before the stadium deal was finalized shouldn't count. As a retroactive guideline for the pair murky of contracts that mention the $14 million agreement, that makes sense and rules out many of the big-ticket projects that have already been paid for.
G/O Media may get a commission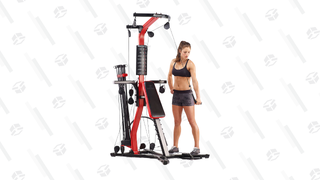 31% Off
Bowflex PR3000 Home Gym
But even still, take those pre-stadium projects out of the equation and the county has still paid at least $17 million for transportation improvements that were started after the stadium construction, some of which were in direct response to a report about game-day traffic concerns.
The new Cobb Commission Chairman has called for a public discussion with the Braves to settle the matter. Who knows what can be said to convince the Braves to stop stealing money from taxpayers, but hopefully it's something along the lines of, "Piss off."