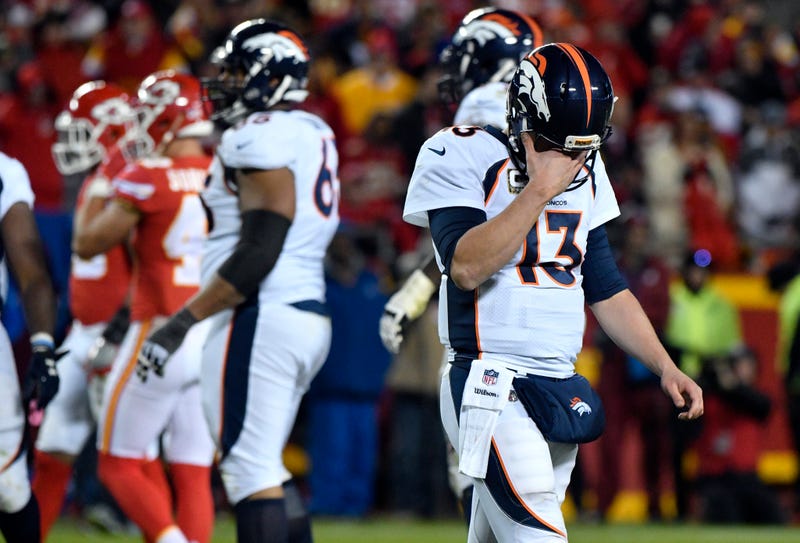 That was the worst game of Trevor Siemian's season, and it might be his last. In a 29-19 loss to the Chiefs that felt like even more of a blowout than that score suggests, Siemian threw for 198 yards on 19-of-36 passing, and tossed three interceptions. And I do not use the verb "tossed" lightly; he may as well have underhanded it to K.C. defenders.

Here are two of them, bookends from the first and fourth quarters, and it's really impossible to imagine what the plan was here, what Siemian could've been hoping would happen when he let these balls go:
This was not anomalous. Siemian had as many picks last night as he threw touchdowns in the entirety of October. The Broncos have lost three straight and have fallen to 3-4, and despite head coach Vance Joseph's loyalty, it's starting to sound like Siemian's starting job is all but lost.
I'm going to watch the film tonight and tomorrow, like most coaches would do, and see," Joseph said. "Tonight our defense played winning football in my opinion, our offensive line blocked, we ran the ball for 177 and the pass [protection] was better. It all fell back to turning the ball over five times, that's insane."

Asked if that meant he would make a change Tuesday if he didn't see what he wanted to see from Siemian on the game video, Joseph replied, "I'm not sure, I'm not sure, but losing three games in a row, and having five turnovers tonight — anything's possible."
Siemian, the former seventh-round pick, has won training-camp battles against Paxton Lynch two straight summers, but all that's done is give him enough of a track record for me to be pretty sure he's not a good-enough answer at QB. (It's also maybe damning of Lynch.)
If a QB change is made, reports Adam Schefter this morning, it'll be to go to Lynch, who finally came off the injury report this week after injuring his throwing shoulder in preseason, but was still inactive for last night's game, and not Brock Osweiler, who's been serving as Siemian's backup. But the timing is not exactly ideal: Denver's next opponents are the Eagles and Patriots, not exactly two teams a 23-year-old with three NFL starts under his belt can ease himself back into action against. But if nothing changes quickly, the Broncos have a good chance of losing both games and falling to 3-6, and given the quality of the division—featuring what looks like a lot of temporary underachievement—that might be a death knell for Denver's playoff hopes.