Here we go again. Time to have that age-old debate over whether it's acceptable for athletes to have fun and go out partying after losing a championship. It seems like we just had this argument four months ago, but the answer remains the same: Yes, it is always acceptable.
The best sports movies according to Toheeb Jimoh
Because Game 6 of the Stanley Cup finals ended around eight o'clock local time, the entire Devils team had an evening to kill and went out to the AV nightclub in Hollywood. Because this is Los Angeles, paparazzi were on the scene by the time they left. Videos have started to surface showing—well, showing what looks like a pretty typical closing time outside a Los Angeles club. Drunk people. Women. A party bus.
It's notable because they're pro athletes, and because a good number of them are married, and because (this should never be underestimated when judging newsworthiness) it's really, really funny. Adam Larsson smoking a cigarette! Adam Henrique getting pissed when a cameraman calls him "Zach!" Dainius Zubrus with a blonde on his lap in the back of a taxi! Andy Greene rounding up wayward teammates like a dad at Chuck E. Cheese! David Clarkson walking into a parking meter as he gets on a party bus with two girls!
G/O Media may get a commission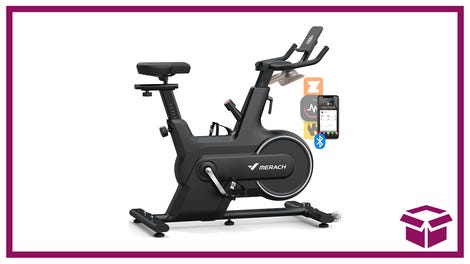 14% off + Coupon
Merach Indoor Cycling Bike
And TMZ capturing a moment that perfectly sums up the perks of being a pro athlete: a driver convincing women to get on the party bus by telling them it's a "once-in-a-lifetime opportunity!"
There's some predictable handwringing on the Devils message boards, but come on. They don't have to answer to you, or us, or anyone besides maybe their wives. It's been a long season, and they've worked their asses off. It's summer, and it's time to have some fun.