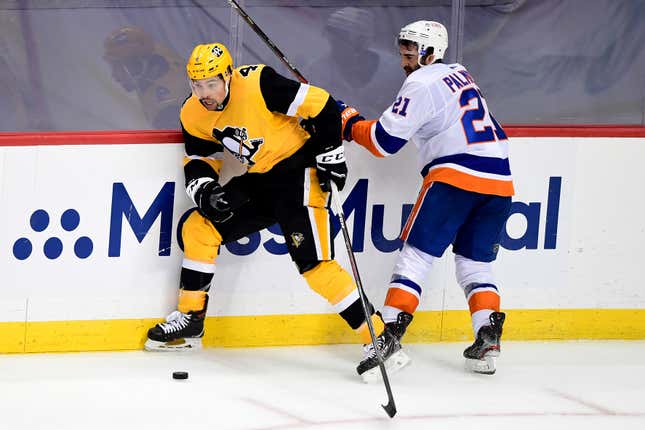 There's an old saying among NHL general managers that today's free agent signing is tomorrow's salary cap dump. Unfortunately, no general managers live by this saying, because there's another old saying among NHL general managers: Today's mistake is the next guy's problem.

What can make the NHL more exciting?
Fine, neither of these is an actual saying in the GM community, but they might as well be, because, as usual, the instant free agency opened, hockey's decision makers went diving headlong up their own rear ends.
It's not like there was a marquee free agent available that everybody had to go after this summer, not once Gabriel Landeskog re-signed with the Avalanche on Tuesday night. And after all the hemming and hawing of the weeks leading up to free agency about the importance of cap space as the NHL digs out of the financial mess of the pandemic, once it was permissible to spend stupid money, the stupid money got spent just the same as it always does.
Here are some of the big moves that NHL teams couldn't even wait two hours to consummate, because heaven forbid hockey men control themselves when given an opening to do something stupid.
The Stars signed Ryan Suter to a four-year, $14.6 million contract, despite the fact that he's 36 years old, eight years removed from being a Norris Trophy finalist, and was completely cooked by the end of his time with the Wild.
At least Suter once was an elite talent, which is a lot more than you can say for Cody Ceci, who maybe once seemed like he might be alright, but has shown over the course of the end of his time in Ottawa, a season with Toronto, and another year with Pittsburgh that, no, he is, in fact, not good. But the Oilers never met a defenseman they couldn't sign to a terrible contract, so they inexplicably gave Ceci four years. The dollars aren't too hideous — $3.25 million a season — but the key thing is that Edmonton took a good, hard look in the mirror after the past… uh… decade… and said, yeah, we've got to give Ceci a roster spot for the next four years.
Petr Mrazek, a .911 goalie over nine seasons with Detroit, Philadelphia, and Carolina, somehow parlayed 12 games in a pandemic season in which he posted a .923 save percentage, into not only a contract on the first day of free agency, but a three-year deal with the Maple Leafs. Three years! For Petr Mrazek! Who hasn't played more than 40 games in a season since 2017 because he's not very good!
Sean Kuraly is 28 years old and has 24 career NHL goals. On any other day of the year, you could have him for a third-round draft pick, tops. On free agency day, Kuraly gets a four-year deal from the Blue Jackets. Again, the $2.5 million annual cap hit isn't terrible, but if there's another saying that NHL general managers should live by, but don't, it's "don't give long contracts to bottom-six forwards."
Because of all this, somehow, the Senators giving Michael Del Zotto a two-year deal isn't even close to the biggest gaffe of free agency. That's a multi-year contract for a defenseman who once looked like he might become a star for the Rangers — a decade ago. More recently, Del Zotto has been a Predator, Flyer, Canuck, Duck, Blue, and Blue Jacket. The biggest question about him at this point is a toss-up between, "He's still in the league?" and, "He's only 31?" You can see why the Senators were so keen to get him to Canada's capital, so quickly. What would they ever do if they missed out on that top free agent target?
Meanwhile, the Lightning got themselves a decent veteran backup goalie in Brian Elliott on a one-year deal for less than a million bucks. Is it any wonder that Tampa Bay is at the top of the league every year? All it takes is not being profoundly stupid.
Unfortunately for a lot of teams, that's simply too much to ask, especially on the first day of free agency.