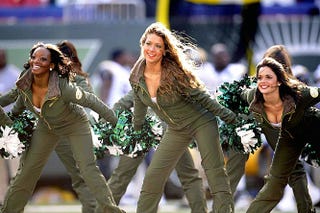 After 12 weeks the Tennessee Titans have joined the ranks of the defeated thanks to (sigh) Brett Favre and the New York Jets. Apparently there's been a rather large puddle of blood on the field stemming from an injury to Albert Haynesworth, and from what I understand there have been no efforts made to clean it up. That's just lovely. Anyway, the Jets won 34-13 and the Titans looked pretty out of it. I wonder if some pundits will suggest that they'll be better off having lost. Frankly I'm on the edge of my seat waiting to find out. Update: Continue after the jump for the bloody evidence.
Image courtesy of Christmas Ape. • Patriots 41 - 28 Dolphins: Flashy records aside, the game of the day without question has been going on down in Miami. New England and Miami have been going back and forth all afternoon. Randy Moss has hauled in three touchdown passes, and suddenly he doesn't care if he ever sees Tom Brady again as long as he lives. He and Welker have both caught 8 passes for better than 120 yards each. Chad Pennington has thrown for 300 yards and three touchdowns on the day, including a beauty to Ricky Williams in the back of the endzone. However the running game has been stifled for the most part. To make things even crazier, Pats lineman Matt Light grabbed Dolphins linebacker, and former Gator Channing Crowder, by the hair and began throwing punches at the back of his head. Both players were ejected, and Light should expect a big ole suspension. Or seeing as how he's a Patriot, a bonus of some sort. Here's video via Black Sports Online.
• Ravens 29 - 7 Eagles: That really got ugly in a hurry. Kevin Kolb was thrown into a shitty situation and he performed up to it. The youngster is 2/8 for 2 yards. Joe Flacco has a pair of touchdowns for Baltimore. Kolb did manage to lead the Eagles down the field on a great drive right before he threw the ball directly into the arms of Ed Reed. The Baltimore safety took the ball back 108 yards for the touchdowns, besting his previous record of 106. Get him some oxygen. • Vikings 30 - 12 Jaguars: Purple Jesus finally jump started Minnesota's offense, and they've opened up a three score lead over Jacksonville. The Jags running attack has been negligible and Garrard has been less efficient than you'd like to see. Most of his success has come underneath to Maurice Jones-Drew who has 9 catches for 113 yards. Garrard has racked up nearly 300 yards through the air, but it's taken him 42 yards passes to do so. • Buccaneers 38 - 20 Lions: The Lions collapse is easier to predict than the phases of the moon. • Cowboys 35 - 22 49ers • Texans 16 - 6 Browns • Bills 54 - 24 Chiefs • Bears 27 - 3 Rams Upcoming games... • Washington Redskins at Seattle Seahawks • New York Giants at Arizona Cardinals • Carolina Panthers at Atlanta Falcons I'll be back with updates on the late games a little bit later in the afternoon.