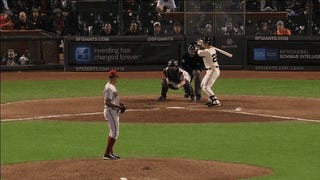 Breaded chicken dropped from the sky. How did it get there; who knows why?
Maybe a seagull, with a keen eye, nabbed it from a fan, and began to fly.
The bird lost interest, or maybe its grip. Whatever happened, the meat started to slip.
The chicken fell, and bounced off the mound. Randall Delgado didn't notice the meat on the ground.
During the delay, the announcers got their kicks. The Diamondbacks won, 7-6.