Jordany "Took a Spring Training Fastball Right To The Dick" Valdespin doesn't do a whole lot on the Mets. He doesn't walk, he can't play much defense, and he's hitting .235. He pinch-hits, with a start in center or at second every so often. He'll steal a base or hit a home run on a special day. But because these are the Mets, he is now the team's center of attention.
It all started on Friday night, after Shaun Marcum—as is his wont—had pitched the Mets into a deep hole against the Pirates. When Valdespin, who had entered the game as a defensive replacement, came up for his first at-bat in the ninth, the Mets trailed Pittsburgh 7-1. Then Valdespin did this, against Jose Contreras:
The consensus among the Pirates was that Valdespin stood there and admired his home run a bit too much for a five-run game. Why this is the Pirates' call to make mostly eludes me—they were, after Valdespin's moonshot, winning by five runs. One cannot really show one's opponent up when having one's snot kicked out by said opponent. But evidently they were mad.
So Saturday's game rolled around. Because the Mets' starting pitcher that day was not named Matt Harvey, as just one of the Mets' five starters is, the Mets trailed Pittsburgh 10-1 in the seventh inning. Manager Terry Collins was looking for someone to bat for LaTroy Hawkins (who happens to be, if you haven't followed this clusterfuck of a season, the team's best setup man, despite being 40 years old and having an 89 mile-per-hour fastball straighter than Warren Beatty). Collins chose Valdespin.
G/O Media may get a commission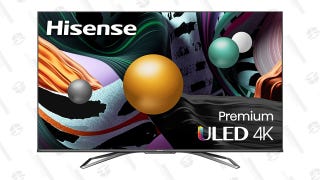 Save $350
Hisense ULED 65" Android 4K HDR Smart TV
Valdespin, according to Andy Martino's Tuesday dispatch for the Daily News, told the team's trainer to tell Collins that he wasn't healthy enough to hit, presumably because he didn't want to get hit. When he finally stepped to the plate, he wore a new piece of elbow padding. And, sure enough, a Pirate pitcher drilled him in the forearm. Valdespin stared down the pitcher, then went to first. Once he was back in the dugout, he threw his helmet and looked around for support from his teammates (GIF here). He didn't get any. Then he declined to speak to the media after the game, which just prompted the media to chase him further. And so Martino nabbed this bit from a not-so-felicitous clubhouse source:
Oh, and there was one more thing. Before Valdespin left the ballpark on Saturday, teammate Juan Lagares asked him for a ride home, according to a clubhouse source. Ever since Lagares arrived from the minor leagues on April 23, Valdespin has tried to force the outfielder to fetch him coffee and run other minor errands that rookies are often asked to perform for veterans, according to that same source (last year, Valdespin made enemies by demanding, unsuccessfully, that veterans buy him clothing).

Because Valdespin has himself only been in the major leagues since 2012, Lagares has at times refused to comply with his demands. So on Saturday, Valdespin said no, he would not give Lagares a ride home. Fortunately, Ruben Tejada volunteered.
Yes, you read that correctly. Where the Mets of recent history had rookie-veteran debates between super-phenom Lastings Milledge and all-star closer Billy Wagner, these Mets have the same fights between Jordany Valdespin, a part-time outfielder hitting .235, and Juan Lagares, a part-time outfielder hitting .139.
Valdespin's only support came from fans, who—understandably—thought there was something wicked in Collins sending him up on Saturday to get plunked. But Collins doesn't listen to fans! "I don't answer to fans. They don't play this game," he said Tuesday night. "They have no idea what goes on. They have no idea what goes on in there. They have absolutely no idea what it means to be a professional teammate at this level." (Does Collins? He never made the bigs. And his last winning season as a manager came in 1998.)
So why not cut Valdespin, then? Well, the team is on a 4-13 skid, fielding a bad lineup—think "John Buck, who is hitting .125/.222/.219 in his last nine games, and Ike Davis, who is hitting .169/.261/.288 overall, sharing the cleanup spot" bad—and enraging any fan docile enough to keep watching its games. Valdespin is, remarkably, one of the team's better hitters, and one of its most exciting presences. Maybe the kid is a distraction, but he's distracting from a tire fire. Did we mention top pitching prospect Zack Wheeler flew to New York yesterday? A call-up, perhaps? Not quite. He's there to undergo a doctor's evaluation after soreness in his clavicle. Another great day in the great history of a great franchise.
New details of weekend drama involving NY Mets' Jordany Valdespin [Daily News]