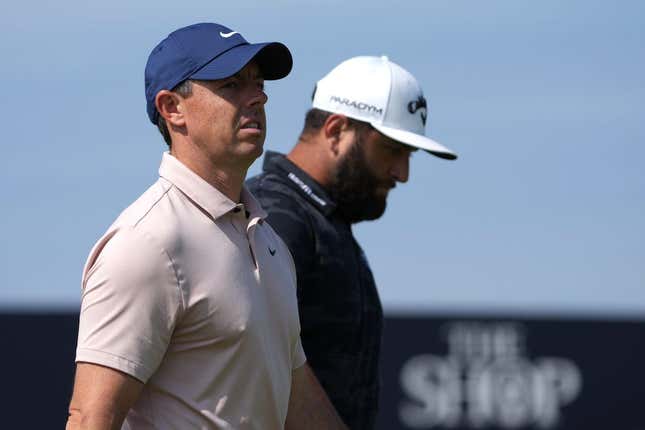 Royal Liverpool Golf Club has 82 devilish pot bunkers awaiting golfers this week at The 151st Open Championship. Three greenside bunkers at the par-5 18th hole alone tripped up the likes of Justin Thomas, Jon Rahm and Rory McIlroy on Thursday afternoon.
How running an NFL team is like running a restaurant | Chef Emeril Lagasse
McIlroy, for his part, managed to save par on the hole, but Rahm bogeyed and Thomas carded a quadruple-bogey 9 to finish at 11-over 82.
Thomas' group was one ahead of McIlroy and Rahm, who were paired with England's Justin Rose for the first two rounds. That meant McIlroy and Rahm wound up spending roughly half an hour on the 599-yard hole as they waited for Thomas to stumble his way to the cup.
Thomas, a two-time major champion who has struggled with his game this summer, began the hole by driving out of bounds. After taking a penalty stroke and finding the fairway on his second try, his fourth shot landed in one of three bunkers protecting the front-left side of the green.
His attempt to punch out sailed straight to his left and landed in a neighboring bunker:
With his ball too close to the front face of the bunker, Thomas had to play his sixth shot behind him just to get out of the sand. He finally reached the green in seven shots and two-putted.
When it came time for McIlroy and Rahm -- ranked Nos. 2 and 3 in the world -- to go for the 18th green, their shots landed in the other two front-left bunkers.
McIlroy, the four-time major champ from Northern Ireland, was in danger of closing his round with a bogey when his third shot of the hole rebounded off the face of the bunker and landed a few feet behind its original position. All McIlroy could do was keep his right foot in the sand, raise his left leg awkwardly out of the bunker and try again. He found the green and made the ensuing putt for par, capping the moment with a fist pump.
"I wouldn't have been too happy walking off the 18th with a bogey, especially after the two shots I hit in there," McIlroy said after his even-par 71.
"Yeah, it's just when you hit it into these bunkers you're sort of riding your luck at that point and hoping it's not up against one of those revetted faces. Yeah, Jon and I didn't have much of a shot with our thirds, so then you're just hoping to make par somehow and get out of there."
Spaniard Rahm didn't endeavor to take on the front face of his bunker. He spent his third shot hitting away from the green, got on the putting surface in four and missed a 23-foot putt before tapping in for bogey and a 3-over 74.
Now the reigning Masters champion is in danger of missing Friday's 36-hole cut.
"You have to put it in the fairway, and if you don't, if you go into one of those bunkers -- it's not surprising when it's happened to every single person in our group at least once," Rahm said.
"... I saw us two, Justin Thomas on 18, many cases where that happened. Yeah, they're proper penalty structures for the most part."
--Field Level Media