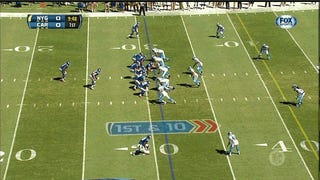 Halfway through the third quarter, the Giants have generated 20 yards of offense. Part of that is thanks to the Panthers' front seven, which has harassed and pressured Manning.
Carolina racked up six sacks—three by Greg Hardy—in the first half and hit Manning eight times. The above GIF shows how quickly Thomas Davis earned his sack as the defensive line tore New York's pocket apart. Rookie defensive tackle Star Lotulelei earned his first career sack, showing why he was Carolina's top pick.
The team's 0-2 start is disappointing—especially after usually error-free linebacker Luke Kuechly was called for a silly pass interference play last Sunday that allowed the Bills to come back and win in dramatic fashion—but the front office has clearly put together a nice foundation for the defense.