The Georgetown coaching situation—already plenty interesting with the school having canned John Thompson III last week—got a lot more interesting over the weekend, when Gene Wang of the Washington Post reported that the leading candidates were Harvard's Tommy Amaker, Shaka Smart of the University of Texas, and Notre Dame's Mike Brey.

Jokic? Embiid? The NBA MVP is obvious... right? | Keep it a Buck(et)
Amaker and Smart, along with former Georgetown superstar Patrick Ewing, are obvious candidates, and were mentioned as possible hires almost as soon as JTIII got axed. Wang, a Georgetown alum, has always been well-sourced at the school, so his removal of Ewing's name from the leaderboard for consideration as JTIII's replacement and his elevation of Brey add a whole lot of intrigue to the process.
Brey, you see, is a disciple of Morgan Wootten, a Hall of Famer and a high school coaching legend at DeMatha Catholic of Hyattsville, Md. Brey went to Wootten's summer camps as a kid, played for him at DeMatha (Class of 1977) and, before becoming a college coach, spent several years there as Wootten's assistant coach. In D.C. basketball circles, Wootten is very well known as the archest rival that John Thompson Jr.—JTIII's father and the architect of the Georgetown program—ever had.
G/O Media may get a commission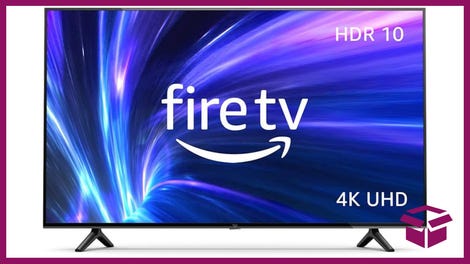 42% Off
Amazon Fire TV 50" 4K Smart TV
The elder Thompson quit as Georgetown's head coach in the middle of the 1998-99 season, but maintained an office on campus and a healthy salary from the school, and all Hoyas followers assumed he still had considerable sway with the hoops program—at least until his son got pink-slipped and Brey's name was floated about as the school's next coach.

Because if Georgetown administrators wanted to send a message that the John Thompson era on the Hilltop is indeed over, leaking that the coaching job could go to a Wootten product is a marvelous way to accomplish that.
"A Morgan Wootten and DeMatha guy replacing Thompson's son? Can you imagine?" says a source close to Brey. "That would be Big John Thompson's worst nightmare."
The Greatest Game Never Played
The Wootten/Thompson bitterness dates back to the late 1960s. That's when Thompson, a D.C. native who starred at Archbishop Carroll High School before going on to play for Providence College and the Boston Celtics, came back home to build a new prep basketball powerhouse at St. Anthony's High School. That put him in the ring with Wootten, who before Thompson's return had spent that decade as the unchallenged king of the Nation's Capital's prep hoops scene. High school basketball was huge locally at the time, much bigger than college basketball; Wootten's squads at DeMatha, located just across the D.C. line in Hyattsville, Md., could pack the 12,500-seat Cole Field House at the University of Maryland before Maryland's squad ever did. (The 1965 DeMatha vs. Power Memorial game at Cole Field House is remembered as the arena's first sellout.)
Thompson quickly made St. Anthony's competitive with the best programs around town, including DeMatha, and Wootten showed he wasn't going to do anything to help St. Anthony's. The coaches' rivalry became a public concern when Wootten got St. Anthony's disinvited from a 1969 Christmas tournament at O'Connell High School in Arlington, Va., that DeMatha was going to play in. Then the Washington Post reported in 1970 that Wootten turned down an invitation to play St. Anthony's in the postseason Knights of Columbus Tournament, held at Georgetown University, because he was worried about unspecified "incidents" that might occur if DeMatha traveled into town. Thompson said Wootten also turned down a game at Howard University's Burr Gymnasium, hinting that his rival was afraid to travel too far downtown, this just a couple years after riots related to the assassination of Martin Luther King destroyed neighborhoods just a few blocks south and west of the Howard campus. Wootten in turn denied he was ducking St. Anthony's, saying he didn't want to waste a money-making opportunity on a tournament game, given the attention the budding rivalry was getting, and counter-claimed that Thompson was the one avoiding a matchup by refusing an offer for the teams to play head-to-head at either Cole Field House or Georgetown.
Finally, after a year of news stories about their avoiding each other, Thompson and Wootten agreed their teams would play in a Jelleff Summer League game scheduled for 8:30 p.m. on June 30, 1970. What actually transpired that night, however, is remembered as the low-water mark of the Thompson vs. Wootten feud, the effects of which were felt for decades.
The Greatest Game Never Played, is what the folks who showed up dubbed it.

Summer league basketball was a major deal in D.C. back then, and no game had ever been given the build-up of DeMatha vs. St. Anthony's. The schools had swapped the top two spots in the city's hoop rankings the previous two regular seasons, and the rosters registered with the Jelleff summer league indicated neither team had lost any firepower. DeMatha had Adrian Dantley, the future Hall of Famer, while St. Anthony's had a gaggle of All-Mets and future Georgetown Hoyas players: Jonathan Smith, Greg Brooks, Aaron Long, Alonzo "Cheese" Holloway, and Merlin Wilson. The size of the crowd varies depending on who tells the tale, but everybody agrees that several thousand people lined the outdoor court at Jelleff.
But Thompson pulled what was either a dick or a genius move, depending on your perspective: To the shock and horror of the courtside mob, he sat the real St. Anthony's squad and sent a gaggle of non-playing students out to face DeMatha's legit squad. Wootten's team didn't take it as a joke, either, and pummeled Thompson's putzes 108-26.
In a Washington Post story about the shenanigans headlined "Wootten, Thompson Score No Contest in Awaited Basketball Duel," the St. Anthony's coach was wholly unapologetic. He boasted that he had fielded "a team of pickups and scrubs" and that "nobody who will be on the [St. Anthony's] team in the fall played."
Thompson explained that he pranked Wootten as revenge for his actions to keep St. Anthony's down; Thompson said getting St. Anthony's removed from tournaments that season "deprived my six seniors of one of the most meaningful experiences in their lives."
"Something like this serves to make the public more conscious," Thompson said. "I hope everybody who was there the other night and everyone who is interested was disappointed. Then they'll know how my kids felt last year."
In the same story, an anonymous observer of the Wootten vs. Thompson feud said he believed that Wootten genuinely "doesn't want to play" Thompson's squad. "But it's not that he's afraid of losing the game," the observer said. "Sometimes you put another team down by ignoring their existence."
After the game, Wootten blasted Thompson for making a "travesty" of the Jelleff League and all who came to watch. Days after the blowup, the Washington Post reported that another summer league coach, who also believed Wootten had been ducking St. Anthony's, sent out "a team of five year olds" to face DeMatha at Jelleff.
The grudge lives on
Wootten and Thompson never coached against each other again, but the feud had legs. Their rivalry went to another level in March 1972 when Georgetown athletic officials announced that both Thompson and Wootten were finalists to fill the school's head basketball coaching vacancy. According to a report in the Washington Post, Wootten had turned down an offer from Georgetown in 1966 to take the same job, preferring to stay with DeMatha. But in 1972, the Post said, Wootten wanted to move up to college ball—only to see Georgetown hire Thompson over him.
Thompson may have played a role in thwarting another potential foray of Wootten's to the college ranks in 1986. After the death of Len Bias, Wootten was among the first candidates considered to replace Lefty Driesell, another famous Thompson nemesis, at the University of Maryland. But Chancellor John Slaughter, in a move that Maryland fans will never forgive or forget, hired another high school coach, Bob Wade of Baltimore's Dunbar High. The Washington Post reported at the time that Slaughter chose Wade over Wootten after talking to Thompson.
Thompson constructed a program at Georgetown that was not only a winner on the court, coaching the team to three Final Four appearances and one national title (1984), but also a social and cultural phenomenon. One minor example of the Hoyas' place: Mars Blackmon, the Brooklyn-based but racially aware protagonist of Spike Lee's feature debut, 1986's She's Gotta Have It, wears a Georgetown Hoyas t-shirt.
John Thompson's accomplishments came while avoiding all things DeMatha.
When Thompson arrived at Georgetown for the 1972-73 season, he inherited captain Mark Edwards, a senior from DeMatha. He kept Edwards around, but for the rest of his 27-year run as Hoyas coach, Thompson never put another DeMatha player on his roster, despite the fact that Wootten and his nearby high school continued his run of producing some of the best players anywhere. (DeMatha, whose campus is located a mere 14 miles from Georgetown's, now can claim more alumni have played in the NBA than any high school in the country other than transfer-haven basketball factory Oak Hill.)

Thompson stopped criticizing Wootten and DeMatha publicly as his star rose at Georgetown, but, as that observer of their feud said after the Jelleff debacle, "Sometimes you put another team down by ignoring their existence."

Thompson's son, JTIII, ended the DeMatha-free streak at Georgetown in 2007 by landing Wootten forward Austin Freeman. This was eight years after his dad retired and 35 years after Mark Edwards, the last "kid" from DeMatha, played for the Hoyas. For some perspective how long the ban had lasted: By the time Freeman enrolled, Edwards was the grandfather of a college student.
Wootten retired from DeMatha in 2002. The school never stopped producing amazing players, and, Freeman aside, those amazing players continue to stay away from Georgetown. The star of last season's squad, Markelle Fultz (now a freshman at the University of Washington), is now being touted as a possible No. 1 overall pick in the 2017 NBA Draft.
The main man on this year's DeMatha squad, D.J. Harvey, has already committed to Notre Dame.
And, despite the rumors, Harvey should get to play for a fellow DeMatha alum in South Bend. A source close to Brey tells me the Notre Dame coach told him over the weekend that he had already told Georgetown he's "not interested" in replacing JTIII.